Lately there has been a huge craze around coconut water. Everyone is drinking it, whether that is at the beach, before/after workouts or simply while relaxing at home. It is high in potassium, vitamins, is a perfect electrolyte for hot days and has countless health benefits. Even if the health benefits don't intrigue you, it is just such a delicious drink to have at any given time. So with all this craze, here are 5 great ways to enjoy coconut water in the tropics or anywhere else in the world.
Straight from the coconut
Probably the most fun and natural way to enjoy coconut water is drinking it straight out of a baby coconut. It's that feeling of holding and sipping it through a straw at the beach or jungle that makes it so wonderful. It's as if you're a make believe cast of Castaway or Survivor. On a hot sunny day, it's the perfect drink to have to quench your thirst or replenish those fluids.
They are also great for taking that perfect beach photo. You know that very popular, holding-a-coconut-in-your-hand-against-the-sea-and-sand Instagram shot.
We have tried it in a few countries – Sri Lanka and Seychelles to name a few – but the best ones are in Thailand. And they are extremely cheap too!
Drink it out of a bottle…but know the difference
It's possible not every place has fresh coconuts or you just don't know how to crack open one. These guys do though and without a knife too! But supposing you can't, never fear, there are plenty of bottled coconut waters out there.
Now, we know that most, if not all, packaged goods are usually not healthy or that they pose a thread to the environment. Bottle juices are usually full of sugar and preservatives. So knowing the right brand or product is critical if you want to stay healthy and fit.
Useful read: How to buy the healthiest coconut water and avoid the worst
There are lots of good coconut water brands but our favorite in Thailand is Maprao. Their coconut water is absolutely 100% (insert all the healthy and eco-friendly words you can think). It's like having it straight from the coconut itself minus the flesh.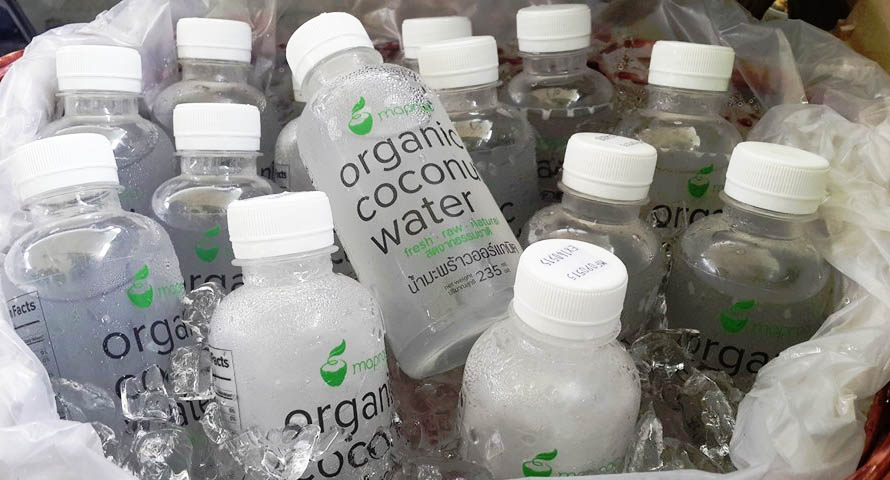 The size of the bottle is also very cute and handy (235-250 ml). You could easily take a few on your next tropical beach or any other trip.
With some booze
Yes I know, we just talked about being healthy and then we mention alcohol. Bit of a contradiction stretch right there but we believe in balance and living life. We're not health freaks and if you're looking for tips on that, sorry, not the right blog.
But yes, coconut water goes amazingly with booze, especially coconut rum or vodka. It's the perfect cocktail ingredient for the tropics and the beach. We recommend trying the King Coconut Martini. So delicious and refreshing.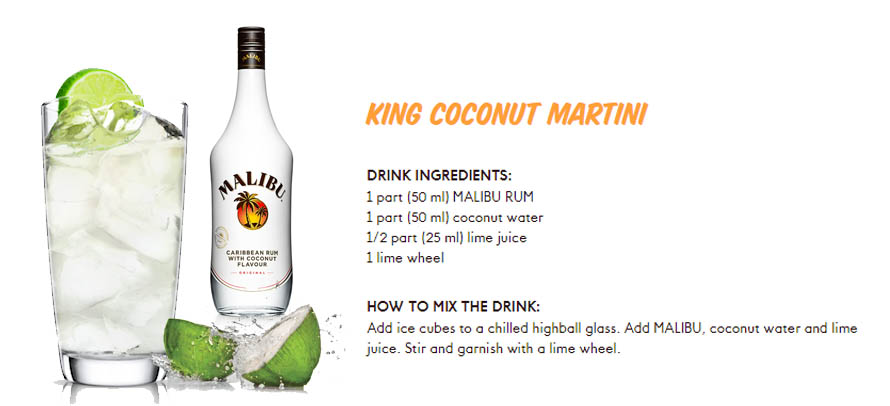 Don't like cocktails? You can easily make virgin versions of them and they will taste just as good. And if you can't find natural coconuts around you, Maprao coconut water does the trick too.
Cook with coconut water
Yes, you heard us right. You can actually make some delicious dishes using coconut water. In Thailand and many other tropical countries, it is common to make meals using coconut milk but you can also use coconut water as a substitute. The swap can lighten up heavy curries (think Thai green curry) during the hot summer months without taking anything away from the flavor.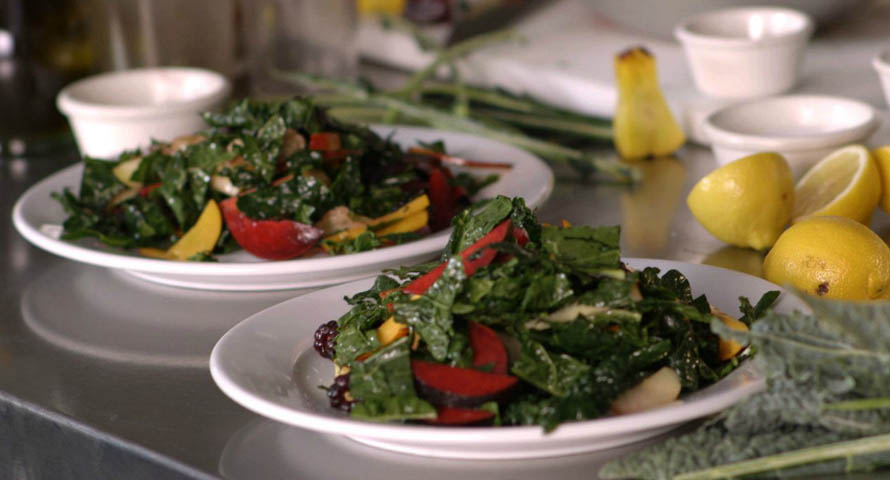 Photo cr: womansday.com
You can also make broths or salad dressings out of it, making for a really light, healthy and yummy meal.
Use it for Skin Care
Another interesting but unusual way to enjoy coconut water is to apply it to your skin. Yes folks, it's not just good for ingesting. A popular practice, especially in India, is applying coconut water to the skin to reduce acne, control oily skin and moisturize. It's also a super-hydrant and has antibacterial properties that is good for the skin. So if you don't have coconut oil or moisturizers hanging around at home, coconut water will do the job as well.
Just make sure to rinse it off after a while before ants or other bugs get attracted to the sugars in it and engulf you.
---
Disclosure: this is NOT a paid sponsored post by Maprao but we did get a bunch of bottles from them as a collaborative effort.