Everyone travels differently, that much is certain and there is no wrong or right way of traveling, especially when it comes to looks. Each of us have our own unique style and preferences. Some like to feel comfortable while some want to look chic. In this collaborative post, we ask 5 of our fellow female travel and lifestyle bloggers what their ideal airport travel style looks are and how they manage to pull it off.
---
Devanshi Kapadia
My airport style is super casual but chic. Whether it's a 2 hour trip  (which always ends up being more) or a day-long journey, I prefer removing all my makeup when I travel. I always coordinate my outfits to the amount of makeup I'm putting on. This is natural to me as a makeup artist.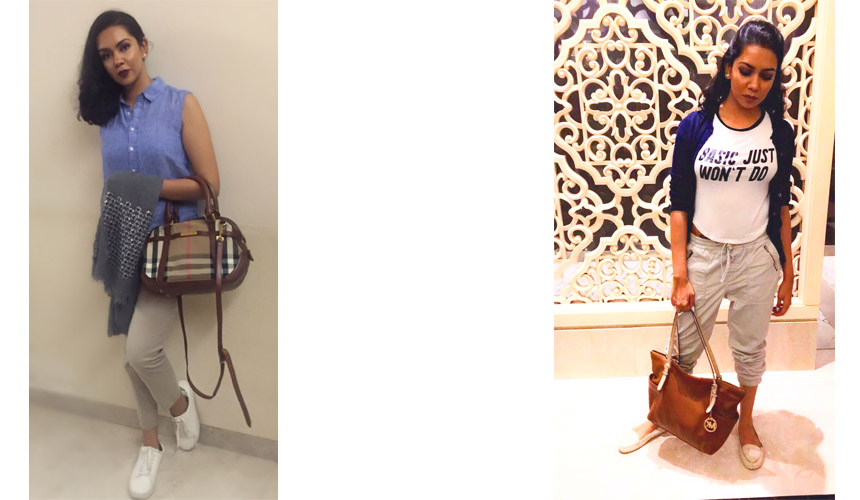 If it's minimal, then my outfit needs to coordinate, plus it has to be comfy for travel. I'm not trying to impress no one, but at the same time I'm trying to show the world how chic casual can be.
Instagram | Facebook | Twitter
---
Traveling is just one of those things I dread doing, especially if they are long haul flights. Why can't we go from one place to another at the blink of an eye. Wouldn't that be cool? But I digress. Here's what my airport style looks like.
Outfit 1 – COMFORT
I chose to wear some causal lightweight trousers with elastic bands around the waist for ease and comfort. I paired these trousers up with a simple white tshirt and opted for a thick woolen scarf over a jacket. For those long hour flights, I prefer wearing slip on shoes rather than anything got to do with laces. It's just easier to slip them off and on when you need to. As you can tell, this whole outfit is based around comfort.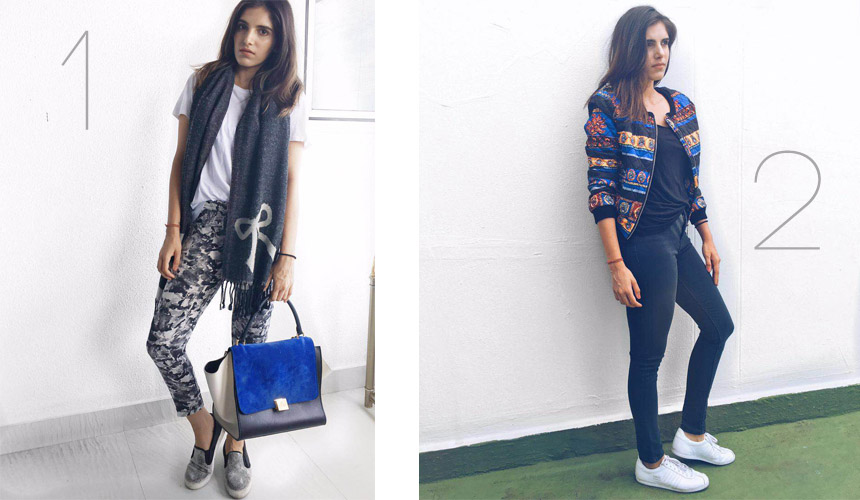 Outfit 2 – COMFORT & STYLE
My second outfit are for those short haul flights when you might need to actually be somewhere important after you get off. You can never go wrong with an all black assemble! It always looks put together. I put on this bomber jacket I found from a little street store in Hong Kong to add a bit of flair to it. Not only will this keep me warm but it also looks incredibly chic for an otherwise really simple outfit. I paired some white sneakers to be more comfortable while walking around the airports. (You know how big airports can be!)
Tip: Don't stuff your handbag with anything less than essentials. There is nothing worse than carrying a bunch of crap around for no reason. Stick to a laptop/tablet, kindle/book, wallet. Passports and maybe a small skin care set to avoid dehydrated skin. If you must use make up, get items that are 3-in-1 to avoid unnecessary baggage. Trust me, your shoulders and back will thank you later!
---
Over the years, my sense of style has evolved from chic to comfortable. When it comes to airport clothing, I usually wear the same thing on all my flights – a pair of tights with a super long tank top. However, depending on my destination, I carry a jacket, a soft scarf, socks, and a pair of footwear.
If I'm flying to or from a colder place, then of course the jacket is a thicker one and the choice of footwear is comfortable flat booties. I always wear booties that are easy to remove at the security check. If I'm flying to or from a hot destination, it changes to a thin jacket and flip flops. Yes, I always carry a jacket, a scarf and a pair of socks for my flight because it tends to get cold.  I don't always have a room after or before a flight so the long tank top can turn into a tunic dress without the tights if it's too hot.
I have never gone wrong with this outfit because it can be layered and customized according to the temperature and the situation.
---
My airport style usually is a black pair of jeans or leggings and a T-shirt. I tend to drop food or spill something when I am on my flights, so the black always conceals my mess

The T-shirt is usually something that is a bit loose. And I always have a hoodie in my carry-on. Some flights get a bit too chilly for me!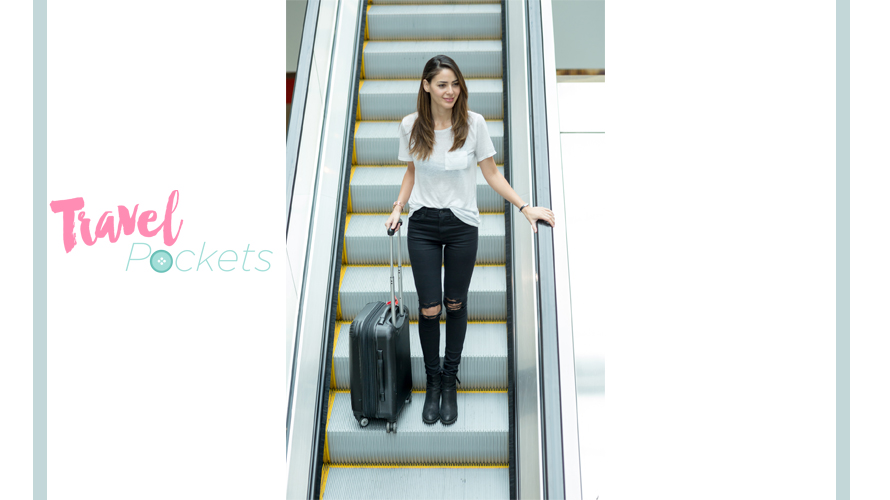 Now my shoes, this changes depending on how long my flight is. If it's a short flight, I will usually wear my booties or sneakers. If it's a long flight, I wear my UGGS. I bought them specifically for long haul flights. They are like slippers and have room for when your feet start to swell a little.
Instagram | Facebook | Twitter
---
My airport style is "comfort over everything". I usually throw on a pair of jeans or leggings and a fitted graphic-tee underneath a hoodie or sweater. A zip-up hoodie is not only easy to put on, but it will also keep me warm throughout the flight. Lastly, since anything can happen at the airport, canvas sneakers or running sneakers are my best bet for those last minute dashes to the gate.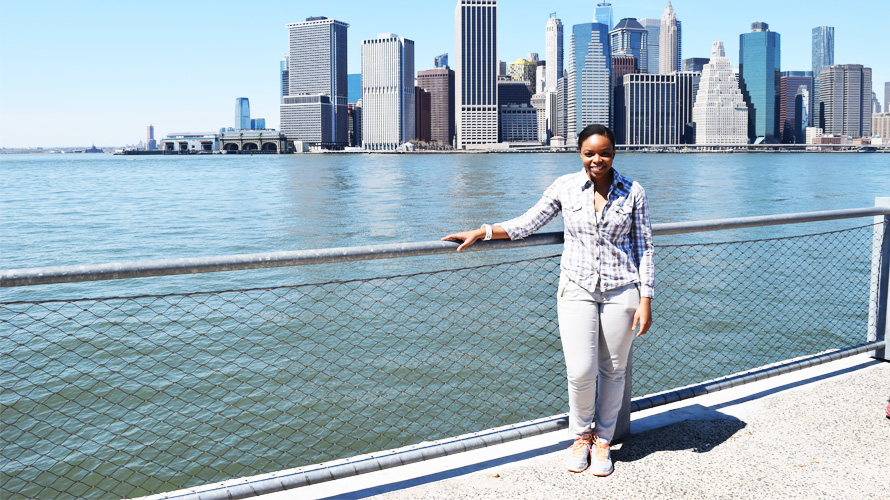 My airport style tip would be to avoid flip-flops. You'll likely have to take off your shoes going through security so don't expose your feet to those nasty airport germs. Instead, put your flip-flops in your carry-on bag and change into them at the terminal.
Well there you have it. 5 different looks and 5 different outlooks on how to dress for travel. What's yours?