I haven't always liked beer. In fact, we only had a fixation towards it for just the past year – year and a half. My first beer was a Heineken and to date I think it is one of the worst. We started liking beer when we tried Hoegaarden and a few German brands like Erdinger and Weihenstephan. Then came the introduction of the craft beer scene and to be honest at first, we weren't too fond of it. But as more and more craft beer bars in Bangkok started opening up, there more it started to grow on us.
Now even though I like craft beer, I'm no connoisseur. Also strangely enough, I'm quite picky with what I drink. I can't do bitter, strong ones and IPAs are definitely my least favorites. That being said, no matter what kind of craft beers you like, you can get them and more at one of these top craft beer bars in Bangkok.
Radisson Blu, Sukhumvit
Brewski has it all. Not only does it have a decent spread of craft beers (both bottled and on tap), it also probably has the best vibes in town (very relaxed and unpretentious).
Being on the 30th floor of Radisson Blu hotel, you get a stunning 180° + view of Bangkok city as well. That's a two-fer in our book. There's nothing better than to enjoy good beers with a beautiful view and a fun environment.
On tap they've got about 12 beers, although not all are craft. If you're like us and sometimes don't know what to get, try their taster option – 4 x 100ml glasses at very affordable prices. Pints and half pints are also available and not too expensive as well.  Then of course you have a huge list of bottled brews with a whole lot of IPAs.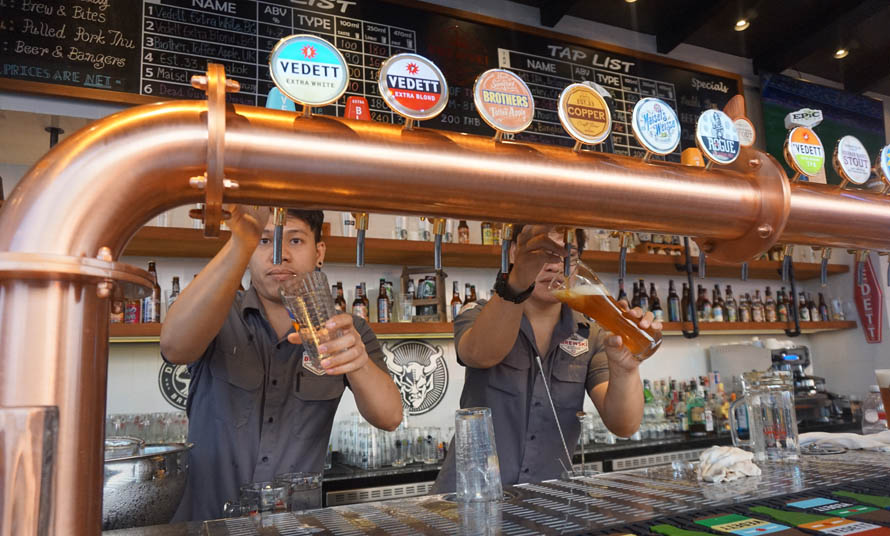 So if you're looking for a big crowd, a happening scene with great vibes while sipping on the brew, Brewski should definitely be on your list.
Choice of beer: Vedett Extra White & Chouffe Soleil from Belgium
Sukhumvit soi 26
Taproom is one of my favorite craft beer bar in Bangkok simply because it is the most pocket-friendly. However, don't let that fool you – it doesn't mean the quality is any lower. They have a whopping 26 beers on tap and possibly a hundred more in bottles from all around the world.
What's really cool is that the taps are changed daily and you can bet that you'll find a new exciting craft beer every time you visit. That's good news for those who like to experience and explore new flavors. If you have a single beer you like, there is a high chance you might not see it for a while.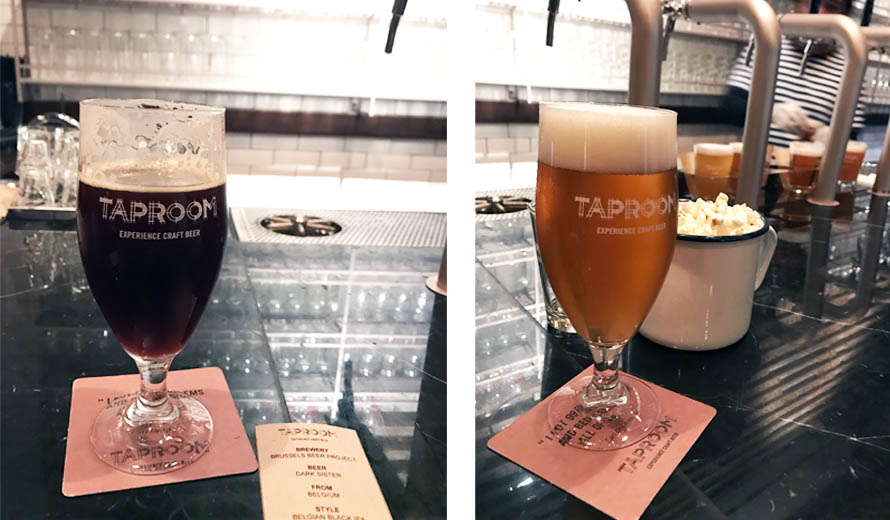 As for the ambiance, it may not be the best and it is definitely more hidden compared to other bars but the quality and price of beers here make it a very good choice. Also since Taproom is part of Casa Lapin X 26, you have access to great coffees, delicious food and even a connecting hostel/co-working space. This place is definitely somewhere that feels like a getaway and is more than just a bar.
Also make sure if you get the chance, to chat with the manager, Jo. She's a spunky, extremely friendly and highly knowledgeable about the beers.
Choice of beer: Orange Avenue, USA & Witte Trappist, Netherlands
Petchburi MRT exit 3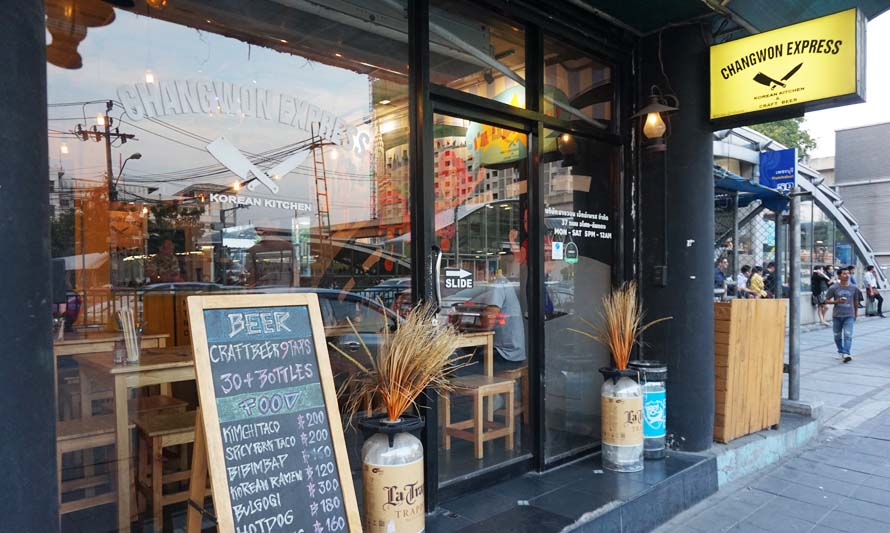 Owned by a Korean expat, Changwon Express is a cute little hole in a wall restaurant/bar on the corner of Petchburi- Asok road. I like this place because it is quite charming and the owner is super friendly.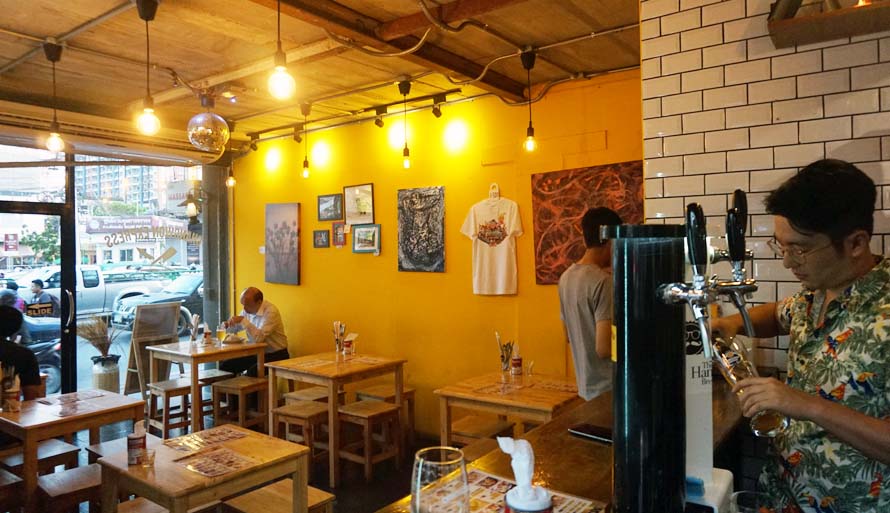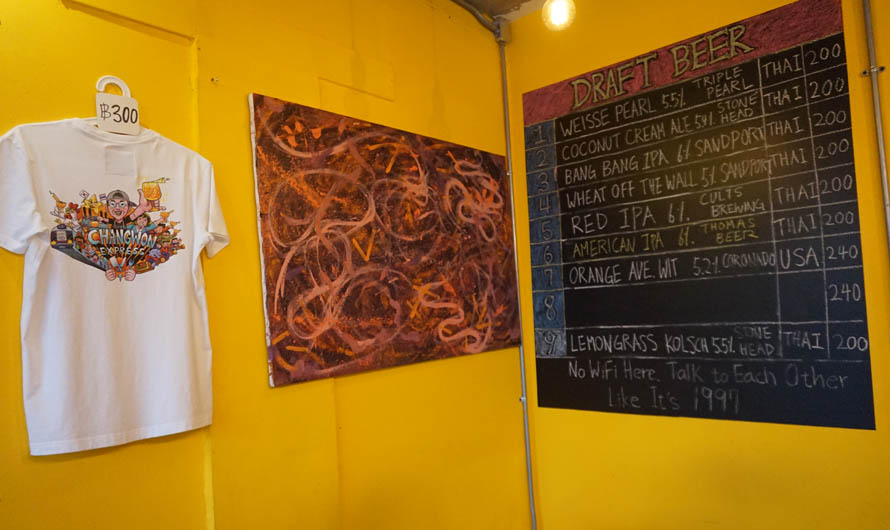 Apart from the cute decor and friendliness of the staff, Changwon Express has got a decent stock of craft beer – 9 on rotating tap and a dozen more in bottles. The beers range from Thai to USA brews, which you can see on the wall next to the bar. A must try here is the Lemongrass Kolsch, which indeed has a hint of lemongrass flavor but only if you're looking for it.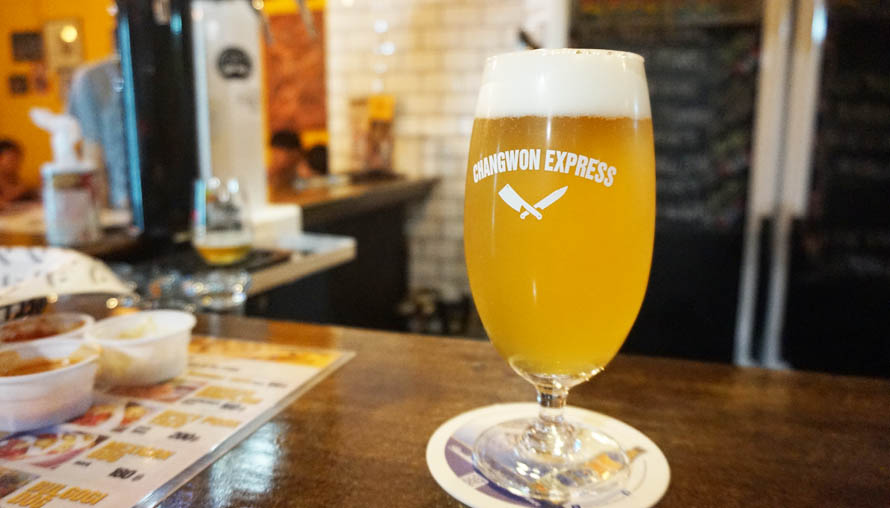 Choice of beer: Lemongrass Kolsch, Weisse Pearl & Coconut Cream Ale
Ekkamai Mall, Ekkamai Soi 10
Another local craft beer hangout spot is the recently opened Goldencoins Taproom. It's tucked away and also slightly hole-in-a-wall style but it also has a rustic charm.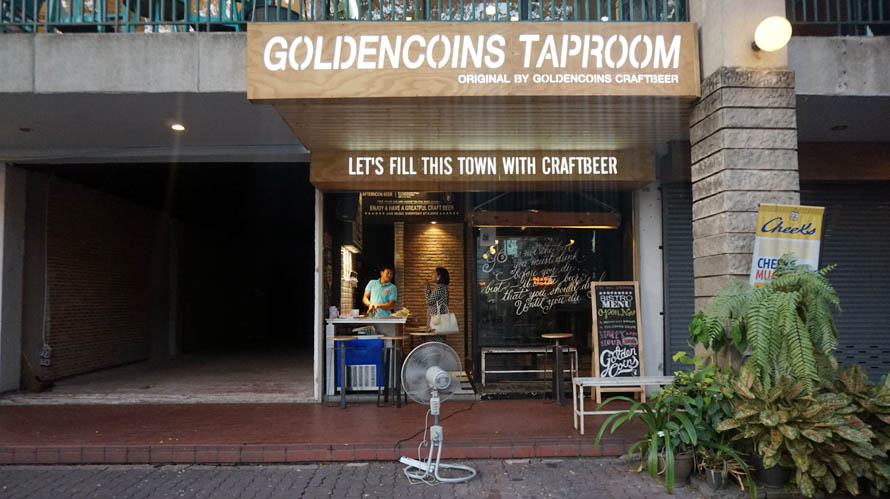 If you've heard of Let the Boy Die (which sadly closed down), you'll be happy to learn that one of the partners opened this up. The bar is dark and small but for true craft beer lovers, this is a haven. You could call it one of those hidden gems where mostly expats, locals and affluent Thais frequent.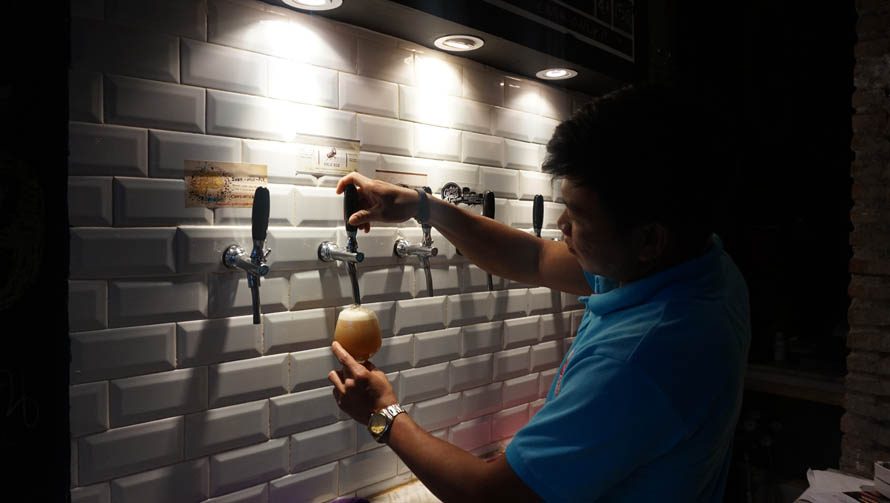 They serve up a small variety of 6 craft beer on tap but for those who like it, love it. Truly quality over quantity is what matters here.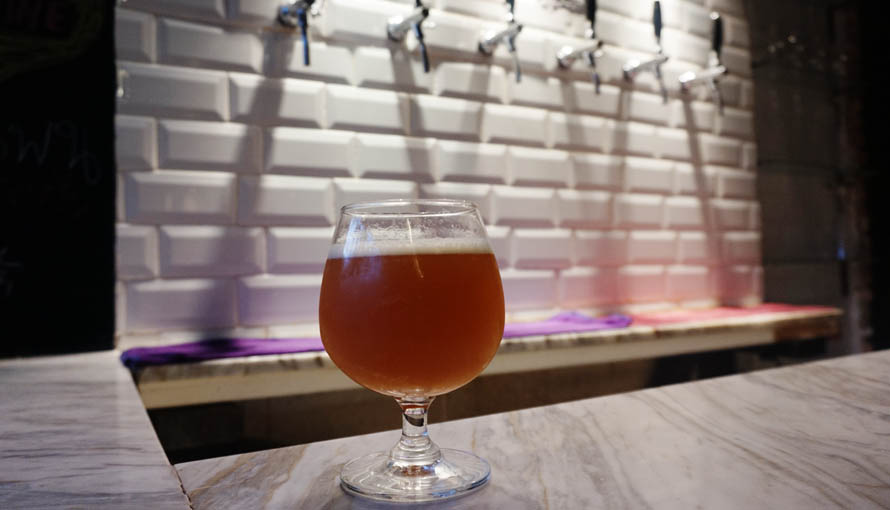 Choice of beer: a pale ale from Yaowaraj
9th floor, Paradise Sukhumvit Hotel, Ekkamai soi 12
This is one of the most beautiful craft beer bars we've come across. For one it's on a rooftop and another it has a wonderful ambiance. 722 Craft Experience has a garden-like feel and even has a swimming pool, which is open to guests of the hotel, where the bar is situated. They even have pool parties from time to time.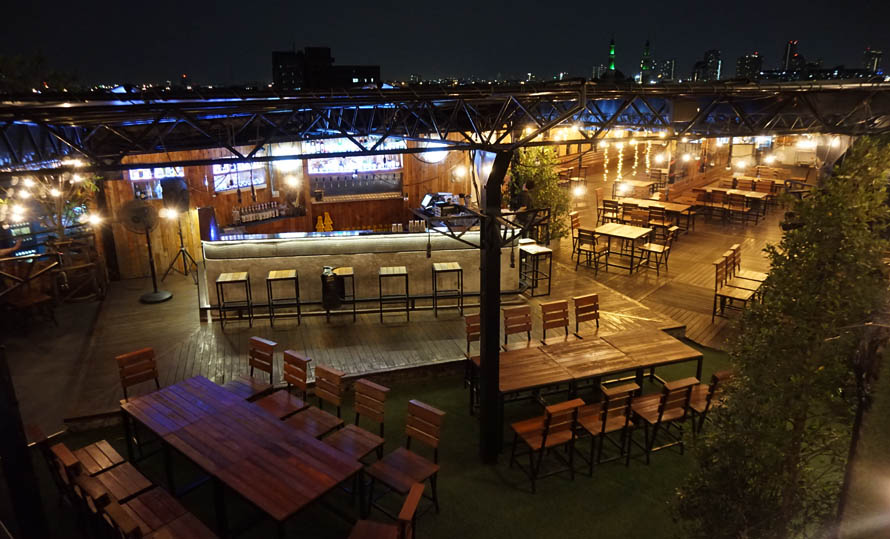 However, when it comes to craft beer, 722 bar slightly fails. Firstly, they are all out of craft on tap and they are even scaling down on the bottled ones. According to the manager, they want to focus on a few, which is good. However, the focus of the bar is no longer craft, which is strange since the name of the bar has CRAFT in it. Hmmm.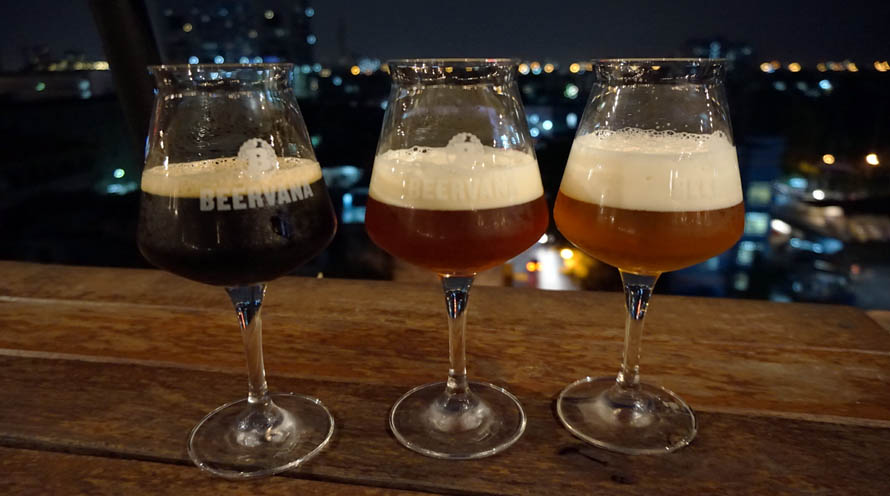 They have a full menu of food, cocktails and promotions on spirits making it like any other bar. Why is it on our top list then? Well, the location, view and ambiance makes it worthwhile. And it's not like they don't have craft beer. They do! This is a place where you can go to get it all.
Choice of beer: try any of their IPAs