Traveling is one of the most rewarding experiences you could ever have, but any frequent flyer knows how difficult it can be to not exceed baggage limits. Wanderlusters have learned to practice minimalism when it comes to packing, a journey proven difficult for many. Editing your list makes it seem like there is no room for style on vacation. Yet we think this is far from the truth. Just because you can't bring 10 pairs of shoes with you on your holiday, it doesn't mean you have to leave your fashion sense behind. All you have to do is plan your outfits, essentially creating a an ultimate travel or vacation capsule wardrobe.
But what is capsule wardrobe?
This was a first we've ever heard of it. However, after some research, we find out that Capsule Wardrobe is a collection of few essential yet seasonal items of clothing.
It's all about having more with less. The precise definition of the capsule wardrobe is, "a collection of clothes and accessories that includes only items considered essential." Although this usually refers to your wardrobe on a whole, meant to be composed of 30 items, the concept has been applied to many a packing list to prevent us from over packing.
Beach vacations are usually very easy to pack for, since your list should contain dresses and one-piece outfits that can transition from day to night. However, tops are slightly more difficult. There are a wide range of contemporary tops to choose from to include in your capsule wardrobe, with tailored shirts and feminine blouses at your disposal. Yet, the key to selecting the right items is by making sure they possess the following characteristics:
Lightweight
Versatile
Can they be worn with a bikini?
Here are a few of the basics for this specific compact closet: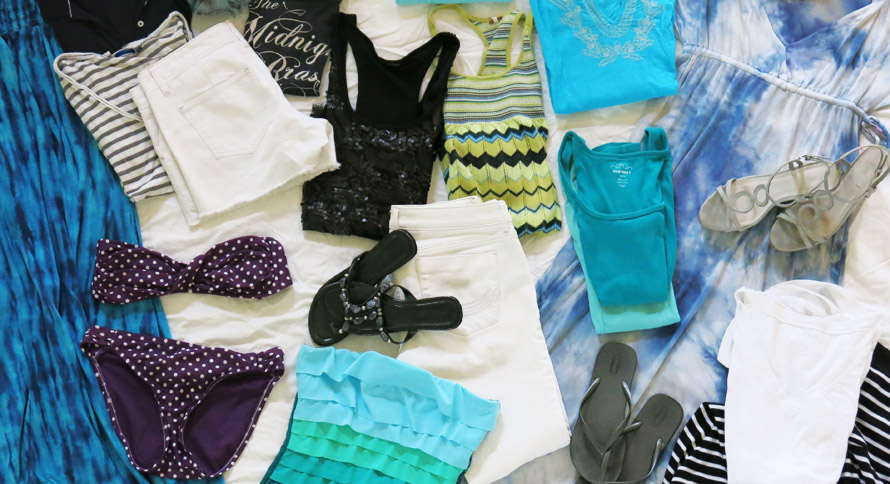 T-shirts and tanks
Striped tees are considered basic enough for any kind of travel. Although we lean more towards solid neutral colors since they are easier to match with different bottoms.
Tip: you also want to watch out for the fabric. Choose items that are made from natural fibers as those are best in terms of breathability in hot weather.
A cotton button-down
The structure of the top may seem like it is quite formal for a relaxed beach vacation, but it is more functional than you think. Opt for a whiteor light-colored shirt, whcih can be paired with shorts. Perfect for both sightseeing or a coverip for your swimsuit. You can even wrap it around around the waist or as an extra layer. An alternative to the white cotton button-down is a chambray shirt.
A couple of evening tops
They don't have to be anything too fancy, but pick one or two tops that have a more formal silhouette or detailing that are better suited for an evening at a resort or an upscale bar. Wear the top with casual pants or a black skirt with heels, and you're good to go!
---
Disclosure: This is a guest post and was contributed by Brigitte Johnston.