Bangkok has no shortage of good Indian restaurants. Just walk down any touristic road in the city and you will come across at least one. In some areas, you'll find dozens. However, if there is one place you couldn't find any Indian food, it's on the Chao Phraya river. Sure there are restaurants along the banks that serve but none on the river itself. That is until now with the recent launch of ARC – Arena River Cruise. ARC is the first-ever Indian dinner cruise in Bangkok and we were excited when they invited us to give it a try.
The evening began when we made our way to Asiatique, a riverside market. The best way to get here is to take the ferry from Saphin Taksin as the traffic can be really bad in this area. The pier at which the ferry from Saphin Taksin drops you is the same one where the dinner cruise picks you up from.
We get there around 6:30 and the dinner cruise was expected to arrive at 8 so we had quite some time to explore around. When the time arrived, the cruise made its way to dock at the pier and we all got on. We were quite hungry and quickly got on.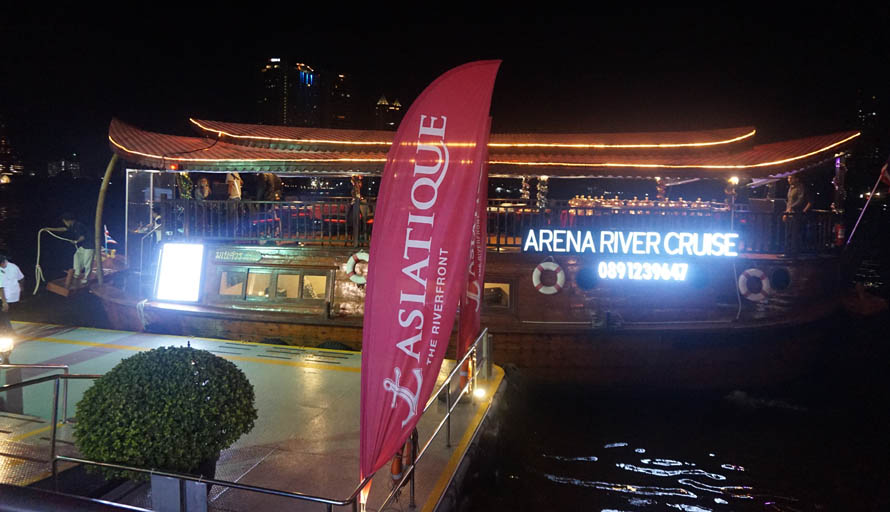 The food
The food on ARC is a buffet-style spread of various classic Indian dishes. They were placed in the rear end of the cruise next to the staircase in a L-shape. Among the dishes were chicken karahi, malai chicken tikka and fish tikka. There were also vegeterian dishes such as palaak paneer, daal and paneer tikka. To along with the curries and tikkas, there was naan, veg biryani and white rice. For the starters there was a mock duck salad and a chicken kati roll.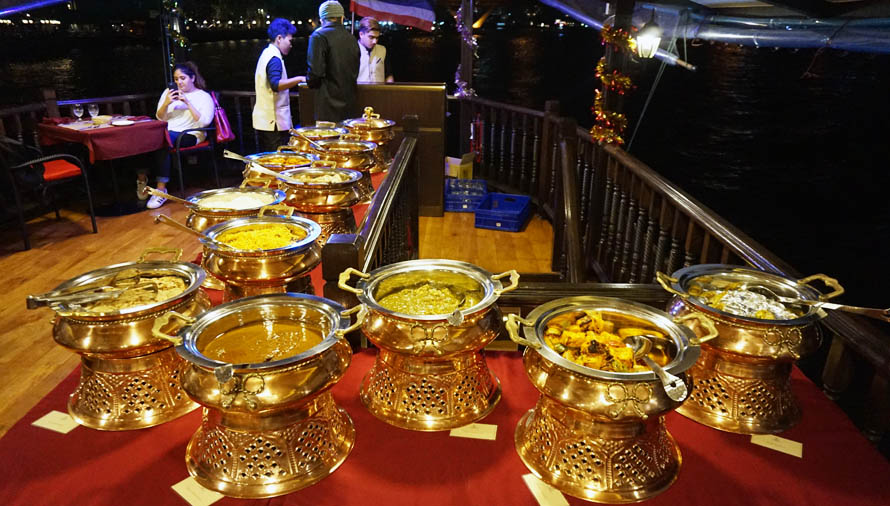 We both agreed that the presentation of the food could be improved. It looked quite basic and bland. We understand that it is a new company so they are testing things out probably but there is ample room for improvement. Lighting could also be enhanced so that guests can take better photos of their food and of each other.
Flavor-wise, the best dish of the night was definitely the chicken karahi (bottom left) and the kati roll – worth 2-3x rounds. Biryani was also quite delicious and flavorful. However, the paneer tikka and daal could be better.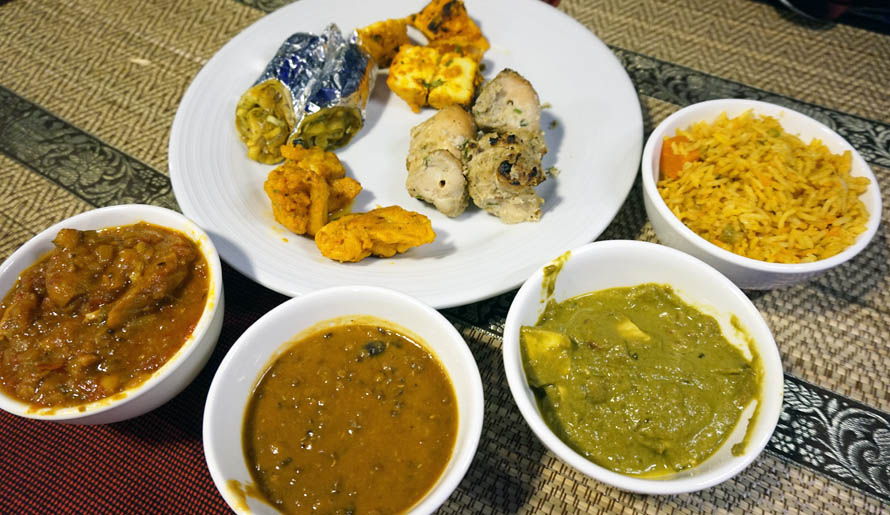 Entertainment
Indian food isn't the only thing on this cruise. What makes it really interesting and unique is the live music. At first as you indulge in the dinner spread, you are lulled to classic and contemporary songs sung by a man and woman duo. You are also encouraged to request your favorite songs and they really do their best not to disappoint.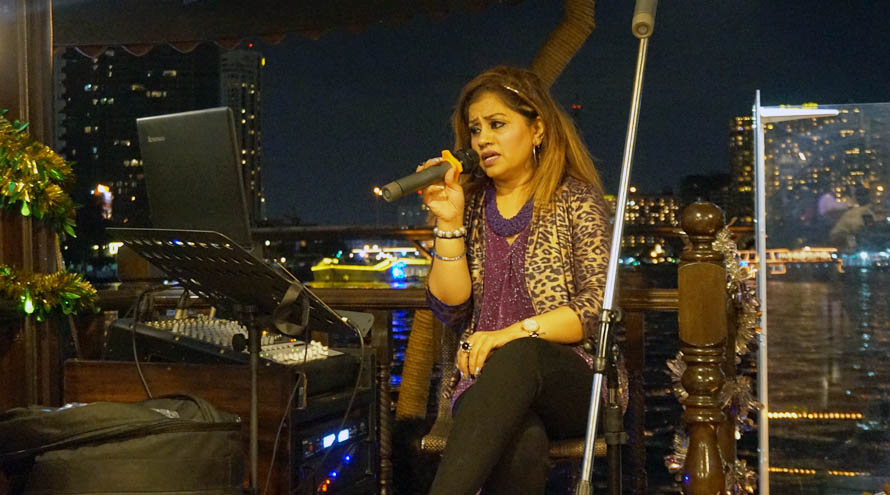 We must admit at first we were a bit nervous how we are going to pass 2 hours of our time as we finished eating in the first 45 minutes. The singing was nice but we were ready to fall sleep. Not moments later, however, the male singer brought out a dhol. Now if you're a Punjabi or have experienced the vibes around a dhol, you know things are going to get livelier.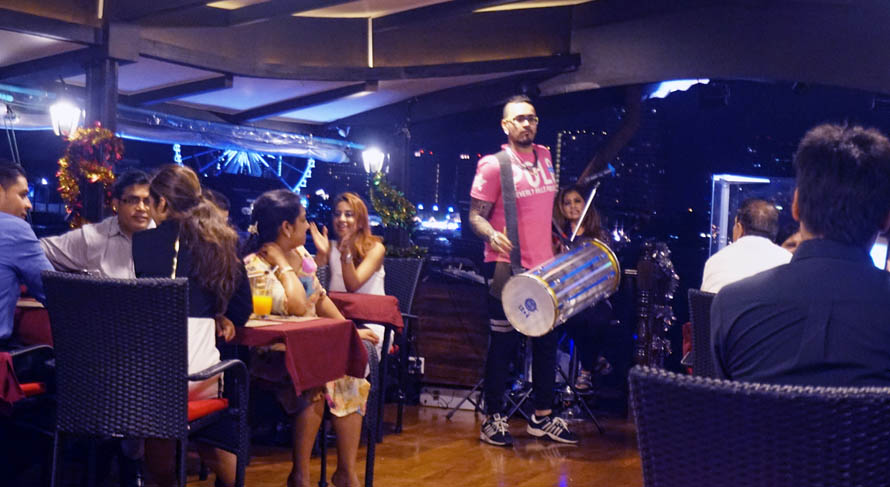 Sure as gold, it did. Within minutes everyone on the boat were on their feet dancing as if they were at a club or wedding.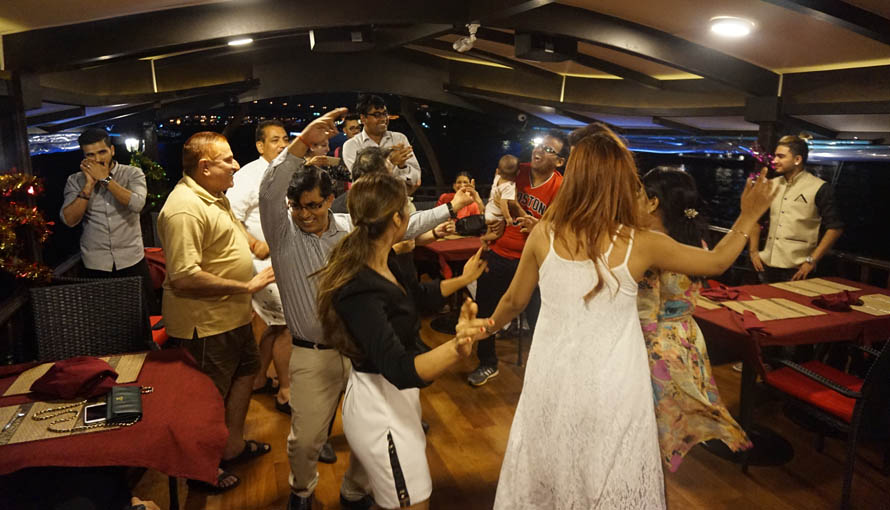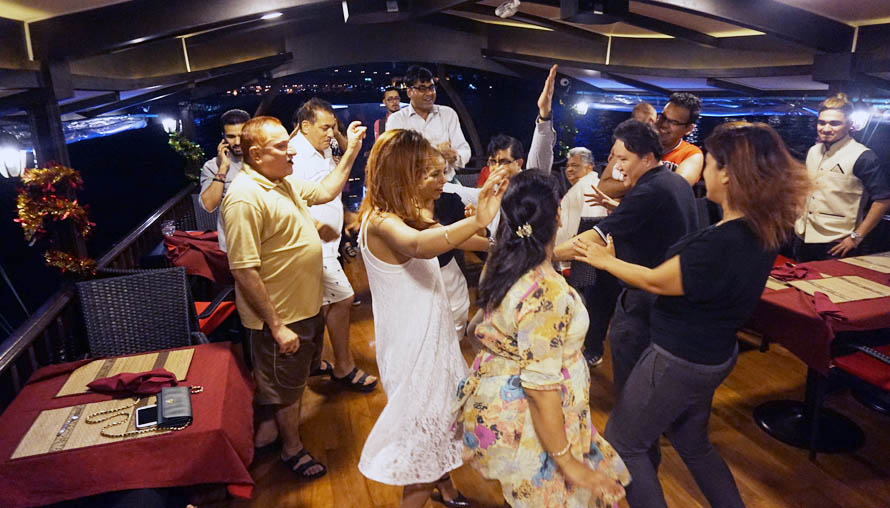 Believe us, you will be the only people on the Chao Phraya river, dancing (bhangra-ing) to Bollywood and Punjabi music. It will be sure to turn heads from passing boats and cruises.
Views from the cruise
Lastly, the magnificent view of Bangkok along the river is a marvel on its own. Couple that with the food and music, it's a night well spent. With almost 2.5 hours on the cruise, it gives you plenty of time to take some photos of beautifully lit buildings and restaurants along the river.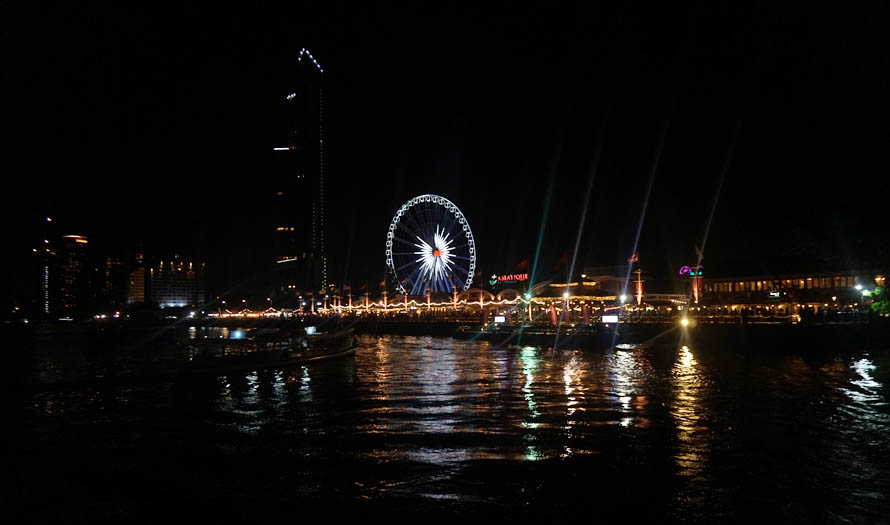 Asiatique riverfront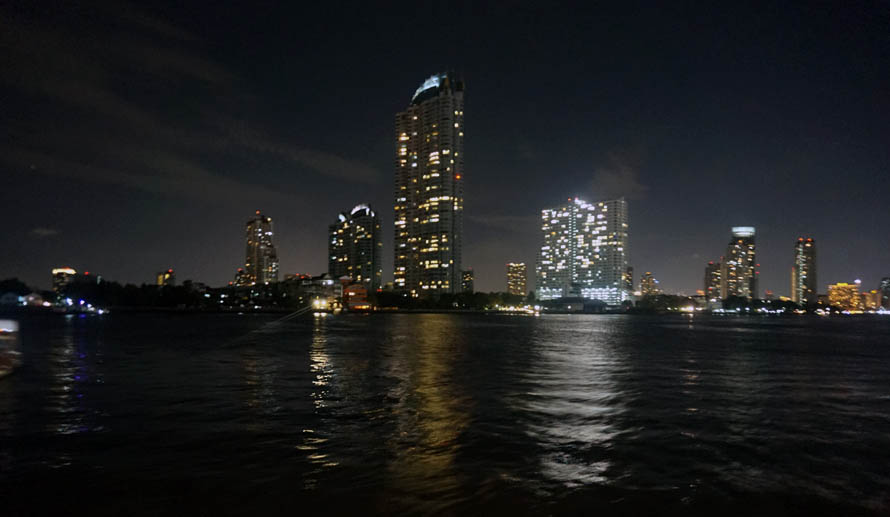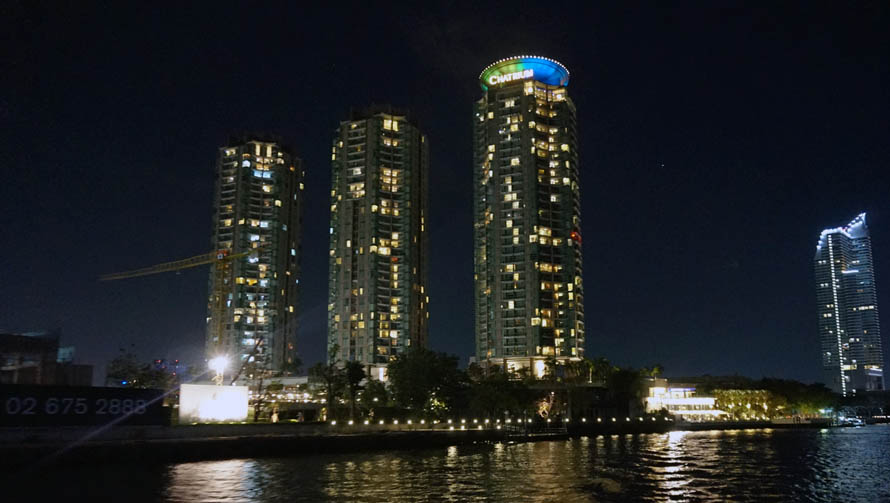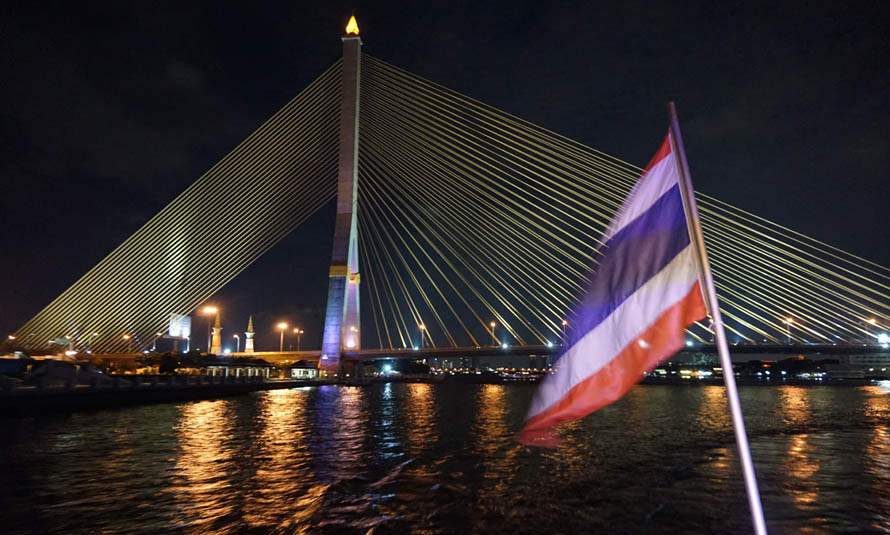 Rama VIII Bridge
Basically you get everything in one package deal – a view of Thailand and a taste of India.
Overall, a great concept and a fun way to experience Bangkok for anyone who enjoys Indian in a unique setting. Since they are new, as we mentioned before, there are room for improvements. Keep an eye out for ARC in the future. It can only get better.