Whether it is your first time or the 100th visit to Bangkok, you can be sure that your experience will always be a little different each time. The city is constantly evolving from a micro and macro scale – from the tiny streets to the overall landscape. One of the best ways you can see the city is from a rooftop and even better if you're having a drink while you do it. Rooftop bar hopping in Bangkok is just one thing you have to do at least once in your life.
The interesting thing is that there are just so many to choose from (over 25 easily), each with their own unique ambiance and style. We have been to quite a few but never did them in succession. So we decided to challenge ourselves and see how fast we could hit some of our favorites in one night.
The trick was to plan out which rooftop bar would be best to capture the perfect sunset and which ones would be good for some nighttime photography. Based on that we mapped the starting point and then mapped out the bars in order.
This is how we planned the route.
Now we just had to make sure we hit each bar on time and to never spend more than 30-45 minutes at each one. We decided to opt for a combination of Uber and BTS sky train/MRT subway to travel between the bars.
That was the plan but here's how it went.
Vertigo & Moon Bar, Banyan Tree
We took the MRT subway from Sukhumvit to Lumpini station and then walked to Banyan tree. Situated on the 61st floor, Vertigo and Moon Bar is apparently one of the first rooftop bars in Bangkok.
Style & Ambiance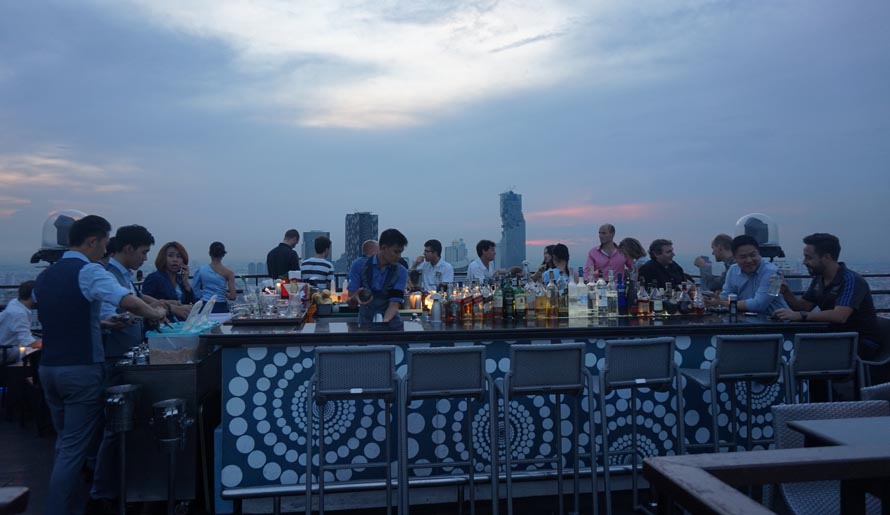 When we got there at about 6 pm, the bar was already quite busy and it is a pretty small one. There are no reservations for Moon Bar as it is "sit wherever there are chairs" type of thing. Alternatively, you can stand and have your drink while you marvel at the view of the city.
Across from the bar is Vertigo, which is the restaurant section of the rooftop. For this you will need a reservation. The look and style of the two bars combined is chic, sophisticated and snazzy. It felt like we were on a cruise on top of the city. Doesn't the shape of the bar look like a boat?
As you can see, the bar is dimly lit, which is good for a romantic evening but it seems to be a bit commercial. There were too many people here to really enjoy the scene. Also, be warned since you're on the 61st floor, it can get quite windy up here.
It's good to note that if it decides to rain, you can go down one floor to Vertigo II, a classy jazz bar where the ambiance is very romantic and sophisticated. It's a bit dark but that's only to highlight the glittery lights on the ceiling, which will make you feel like you're under the stars. A very nice touch, we thought. It's definitely quieter and slightly more exclusive down here.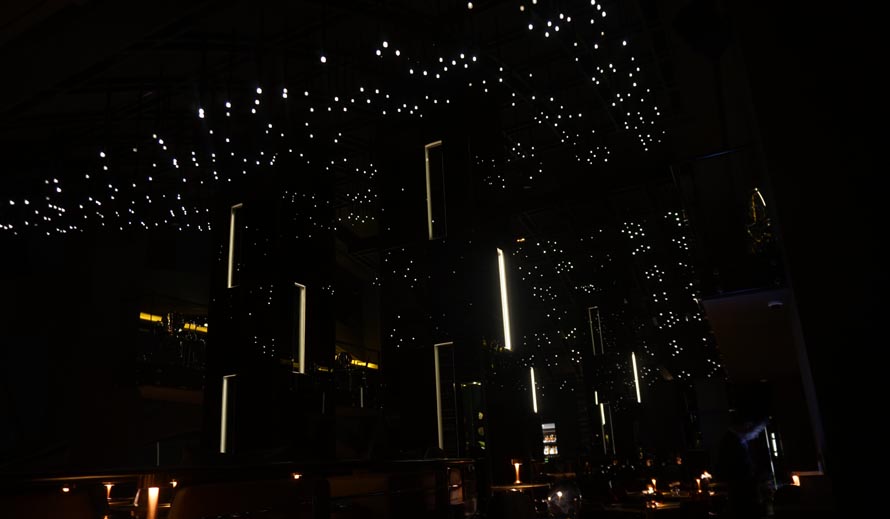 Drinks
For the drinks, we asked the bartender to recommend one strong (alcohol content) drink and the other should be the most poplar. He brought us (L to R) a Siam Ice Tea and a signature Mojito.
Siam Ice Tea – it was kind of sweet and sour but not exceptional that you would expect at a rooftop bar of this caliber.
Mojito – just a regular mojito to be honest. Nothing special but it did the trick.
We decided we would follow the same style for each upcoming bar – order one strong and one popular drink.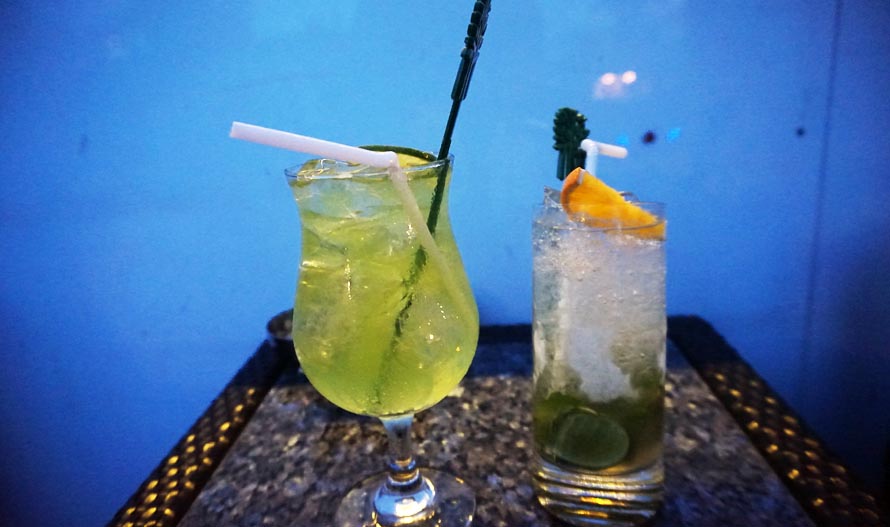 We were also invited to come down to Vertigo II and try out their newly crafted drink – the Hadle by Mitchell 'Kai' Lum, which was one of the top 5 drinks at Bacardi Legacy. This drink really blew our minds! It's no wonder it was a finalist with its sweet and sour taste. Very refreshing and a good quality cocktail.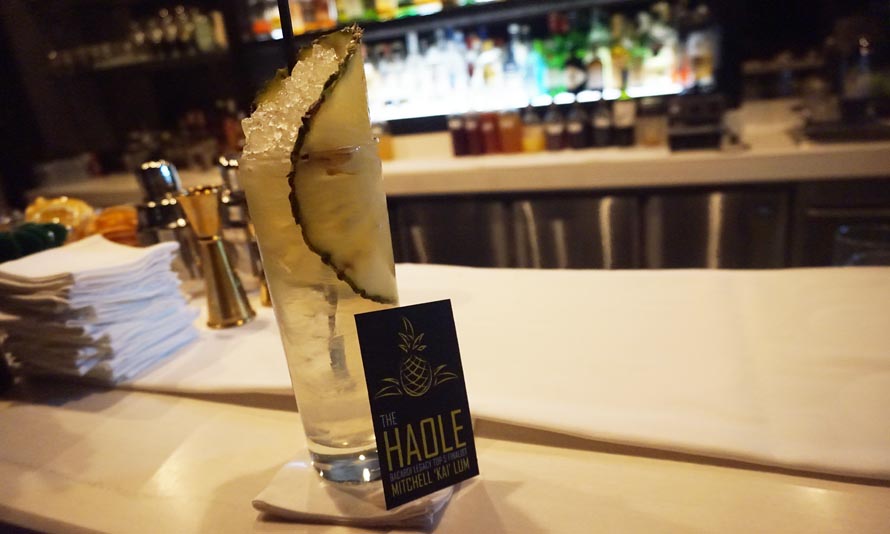 The View
The highlight of the bar is definitely the view. Moon bar sports an 360 degree panoramic view of the city including the Chao Phraya river, the Baiyoke tower AND the new Mahanakhon building.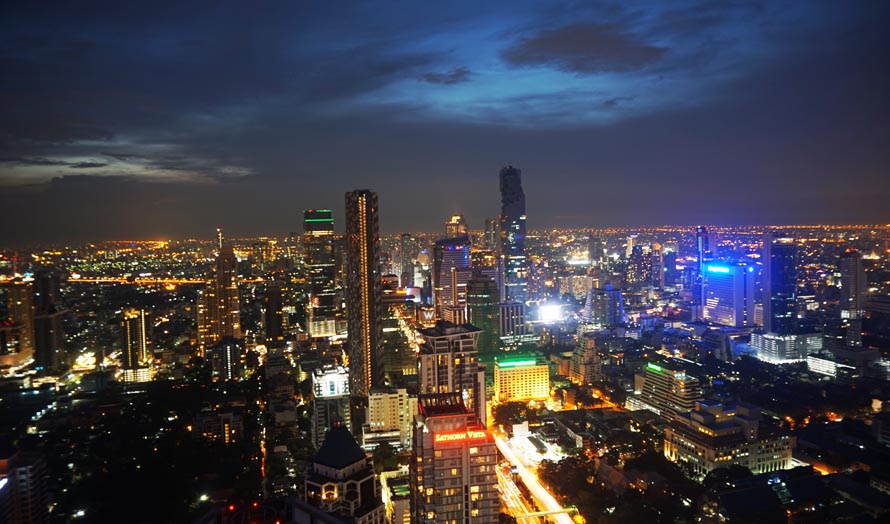 Address: 21 South 
Sathorn Road
Hi SO, SO Sofitel
HI-SO is the second level bar at the SO Sofitel Bangkok on the 30th floor. The lower level one is called Park Society and Park Society Terrace on the 29th floor, which is both a restaurant and bar. We opted to go up to HI-SO as it seemed a bit more exclusive. We used to think it is a VIP zone but it's not. VIP events are sometimes held here but if there aren't any, it is open to everyone.
Style & Ambiance
HI-SO definitely gave us a little more exclusive feel from Park Society Terrace. It had a very romantic atmosphere, away from the small crowd below. Both bars are very nice, however.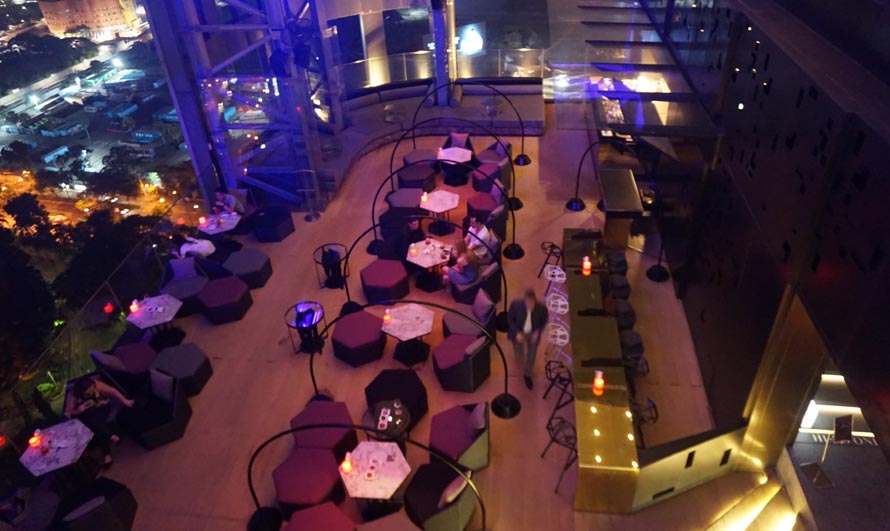 Park Society Terrace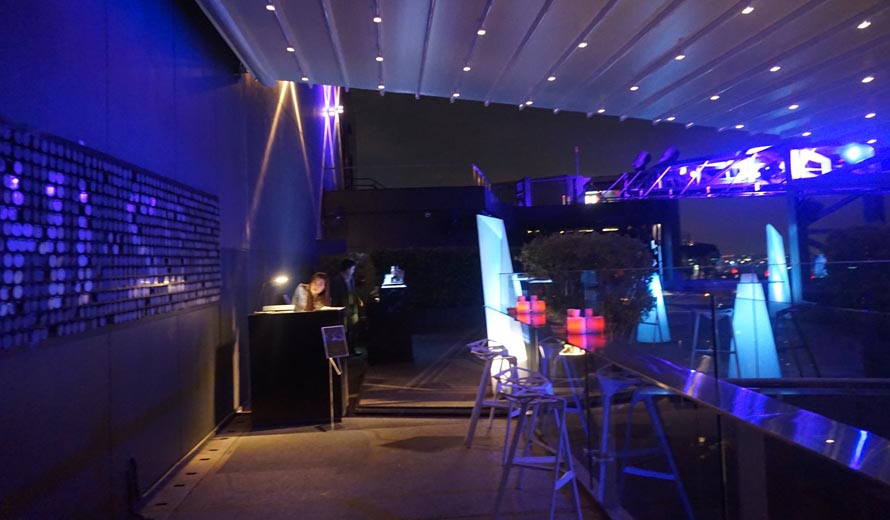 HI SO Rooftop Bar
The design is very modern and chic, mirroring the overall concept of the hotel itself – a lifestyle, luxury 5-star space. It's definitely one of those very cool design hotel that you will find in Bangkok. Everything plays well into each other – from the view to the drinks to the design of the whole bar in a very non-pretentious manner. The social setting blends casual with professional/formal quite well.
Drinks
Like at Moon Bar, we asked the bartender to give us their best two drinks. This is what we got (L to R).
Lychee Rose Petal – very refreshing as you can taste a slight hint of lychee and lasting tangy flavor.
SO French – made from Vodka, Cassis, cherry, pineapple juice, lemon and raspberry gave this drink a perfect blend of sweet and sour taste, which is just what we like in a cocktail. We could imagine having this at the beach but rooftop overlooking Bangkok with slight chance of rain also does the trick.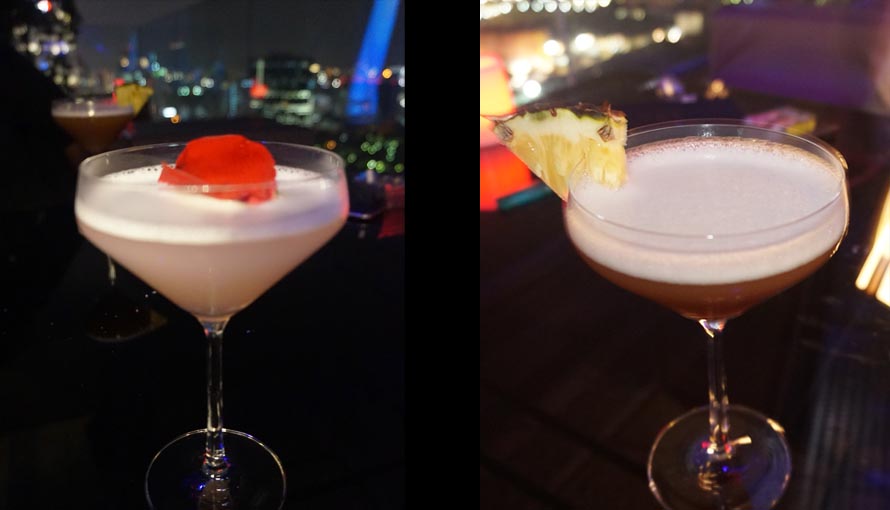 The View
Although HO So isn't as high as the Moon Bar, it's view isn't any less spectacular. In fact sometimes when you are eye level from most other buildings, it creates a unique perspective, making it one of the more unique rooftop bars in Bangkok. In the distance you see tall buildings straddling the horizon. Up close, low-lying apartments and homes set against a dark open patch, which is the iconic Lumpini Park. All this, in a clear 180 degree panoramic setting from the bar.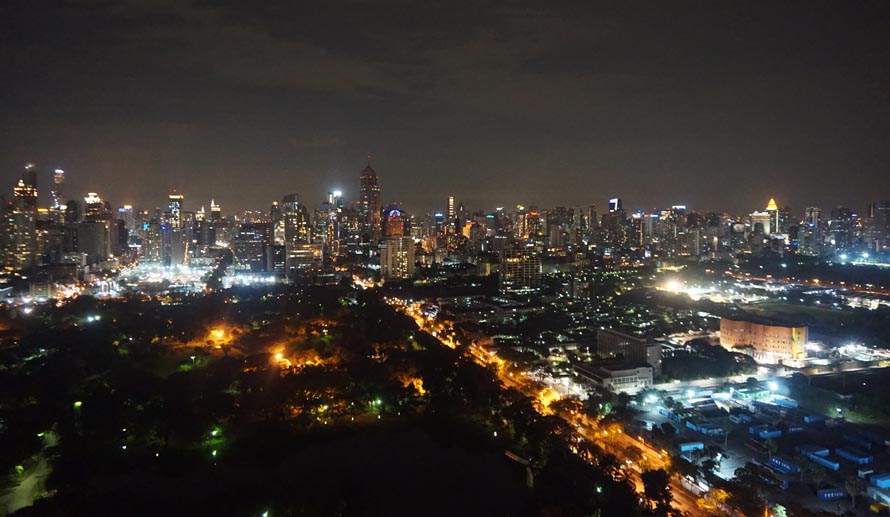 The city view from up here is equally or even more nice during the day, which gives light to the park. The contrast of green against the concrete is very interesting, which you can't see from any other rooftop bar.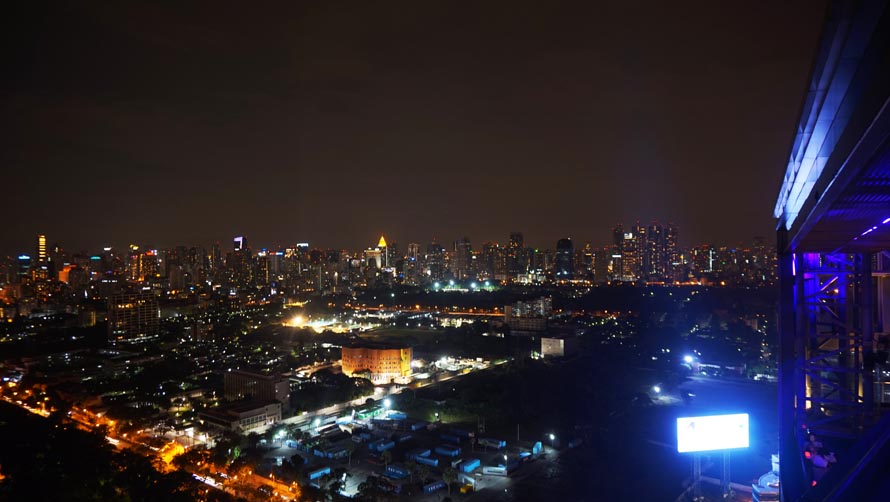 Our camera was acting weird at this point so the pictures came out a bit blurry. Also it was starting to rain a bit so everything was slightly hazy.
Address: 2 North Sathorn Road
Phone: +662 624 0000
---
Char, Hotel Indigo
By now it started raining very heavily. So we ordered a Grab Car while going down the elevator but it was really far so the reception helped us get a normal cab. The next bar on the agenda was Char at Hotel Indigo on Wireless road. Not too far from So Sofitel. We were excited for this one because we've never been here and it is one of the newest bars in town.
Style & Ambiance
The hotel lobby gave a very vintage style look, fitted with all kinds of quirky decorations. Even the elevator walls were lined with brown leather…or maybe pleather. We even rested our heads against it since it was so soft.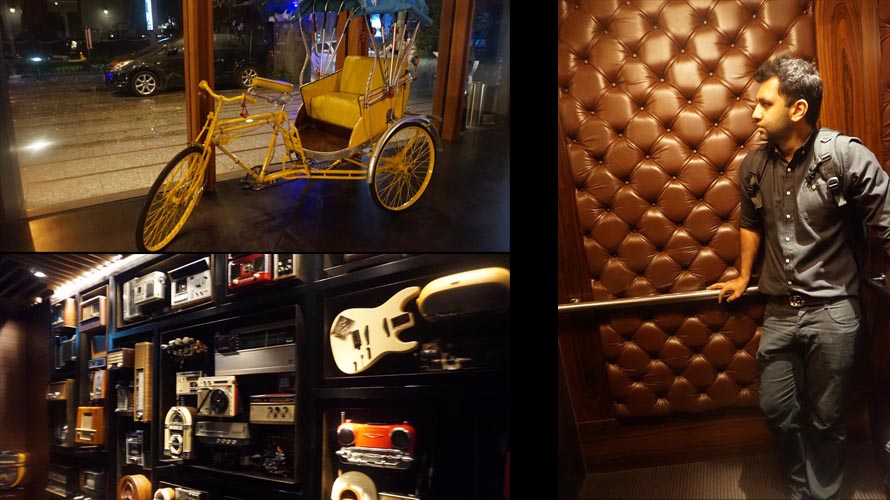 We go up to the bar and are met with the manager who tells us that since it is raining heavily, we would be better off at the restaurant at the floor below. He adds that when it stops raining, we could come up. We agree.
The bar itself was relaxed and causal but since it was raining and all the sofas were covered we couldn't really judge.
Drinks
Downstairs we are brought two drinks. We have to say, the best presentation so far! Not only did they look aesthetically pleasing, they tasted really good too.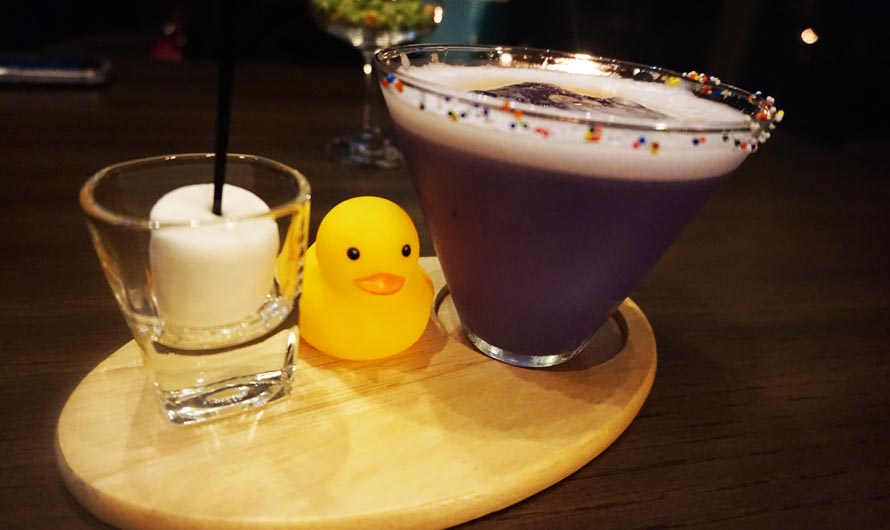 First was the Memory – a candy sweet and slightly spiced, aromatic drink made with Absolut Vodka infused with strawberry marshmellow. It is also mixed with lime, lavender blue pea syrup, vanilla liquor, apple juice, kaffir leaf, Angostura, egg white and peach bitter. With all those flavors, you would think it would have a strong taste. Actually it was quite the opposite. The drink was smooth as silk. For people who don't like cocktails because they are too strong, sweet, sour or whatever, this is the drink for you.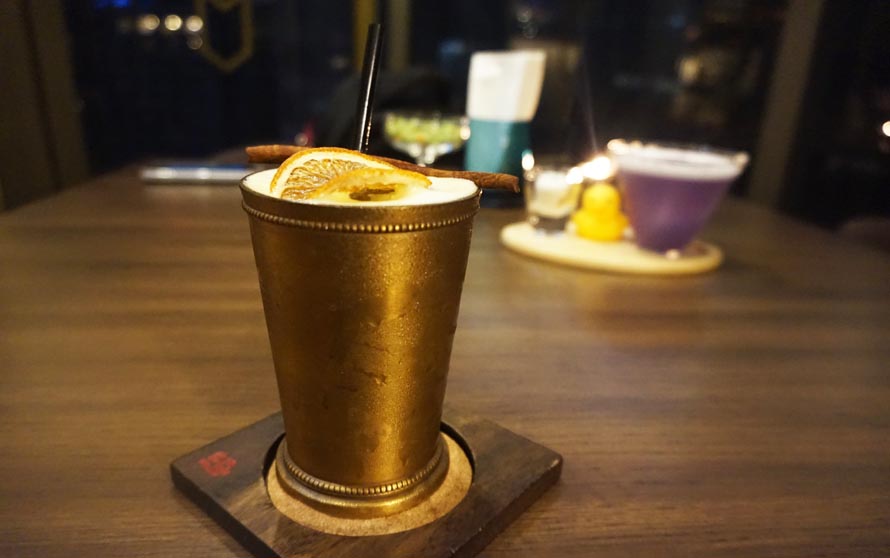 Next up is the Drunken Boat and my God, this was the ultimate cocktail. Right up my alley in flavor and kick. It was creamy, slightly fruity, sour and spicy. The spice definitely came from the cinnamon syrup while the sourness comes from passion fruit and chocolate bitter. The base ingredient is Havana 7yrs rum. Definitely recommend this drink to guys and girls.
We really enjoyed the story and concept behind the drinks as well so make sure you ask the Bartender to explain it to you. It's always interesting to know.
The View
Now it was finally time to go up and see what views the bar had to offer.
Not bad. An almost 180 degree panoramic view of the city within the city. Buildings were distant enough to get a nice open-air feeling. It's easy to feel closed in or claustorphobic in some places where the buildings are too close together. It's not high up above you can see everything far into the horizon but it had its own charm – a different perspective of the skyline. It's important to have these different options we feel.
Address:
81 Wireless Road, Lumpini
---
While en route to the next bar, we made a judgement call and decided to switch our plans. We figured it would be better to visit Octave first and then Above Eleven since it's closer to home.
Unfortunately, that plan ultimately failed as we could not fit in Above Eleven due to time constrains and bad weather.
So instead, we decided we would have to go there another day. It won't technically be part of this rooftop bar hopping activity but we will include it here in the near future just so you know about it a little bit.
---
Octave Rooftop Bar, Marriott Hotel Sukhumvit
The Octave Rooftop bar has been one of our favorite rooftop bars ever in Bangkok. We were excited to go back here together after a long time though.
Style & Ambiance
It's made up of 4 levels, each providing a difference ambiance and mood. Since it was raining, we weren't allowed to go on the top most one, which is a shame because it boasts a 360 degree panoramic view of the entire city. It's unrivaled in fact in many ways.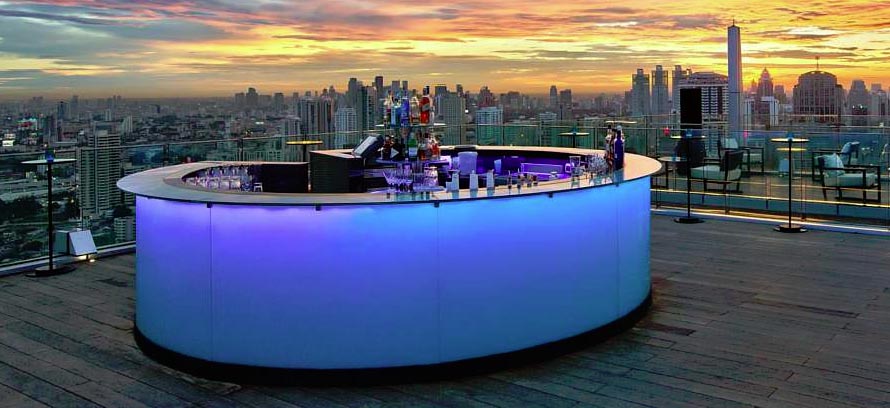 The style of the bar(s) can be simply described as contemporary meets traditional. There is also a blend of nature and technology with elements of earth (wood, grass, open-air) infused into the design of the place.
The ambiance is also very social where casual meets formal – a great place for budding entrepreneurs, expats and influential people.
Drinks
At Octave we were given two drinks each. I guess they were feeling very generous and we aren't complaining either.

First came their signature two drinks (left to right):
Thai Mojito – a local variation of the typical Mojito. Instead of using the usual rum, it uses a brand and replaces mint leaves with Thai basil leaves. This gives the drink a more spicy kick but also refreshing. A little trick I learned when Octave first opened (they offered it as a drink called Mexican Hops) is to top it off with a little beer. This reduces the spiciness and gives it that extra fizz. Try it! Best to use Singha or if you're going to go with an international brand, a Hoegaarden.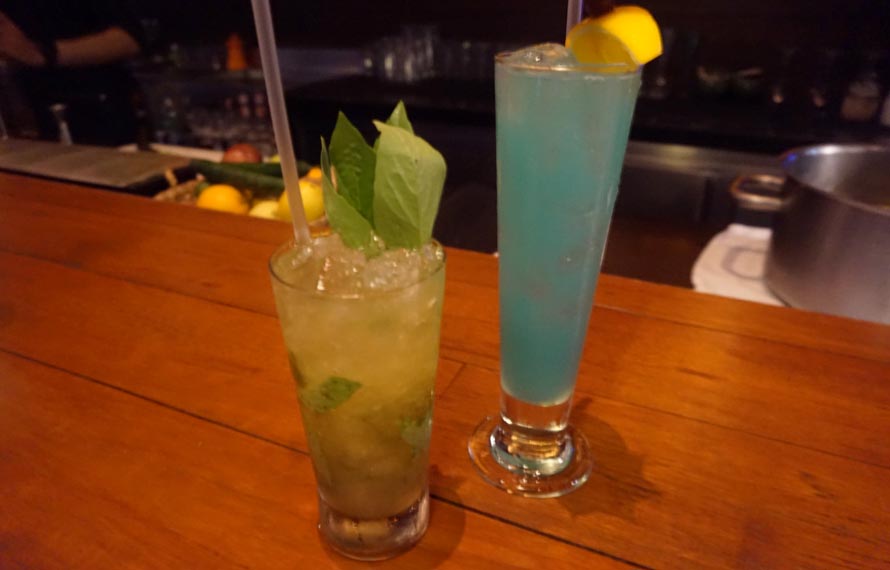 Be Tranquil – gin based fruity with a sour kick. We think its a very chic drink but that tall glass will definitely get you buzzed after just one. The name seems rather fitting.

Then came round 2 of drink courtesy of Octave.
Left to right: Sunset Twiddle was a sweet and slightly sour, easy to drink cocktail while the Jack Twist  had a bitter, strong start but ends very smooth due to the vanilla extract. Usually drinks like this have a lasting bitter taste but this was the complete opposite.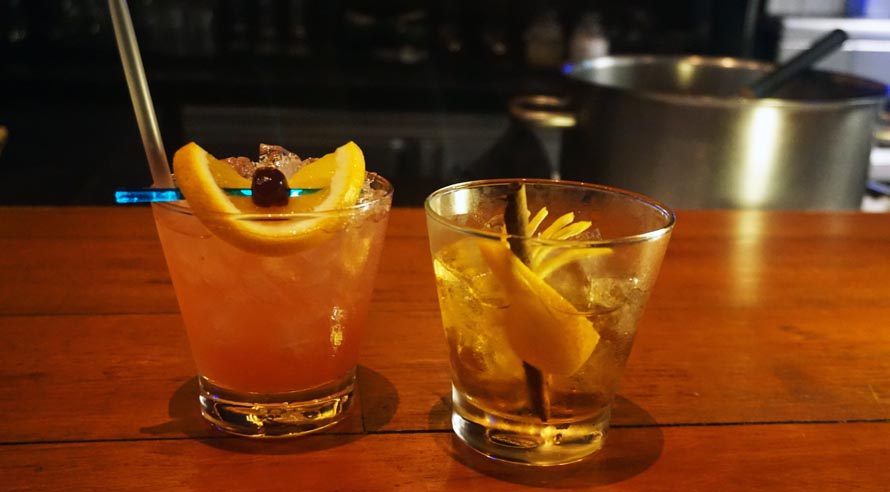 Overall, these might have been the strongest drinks we had the entire night. It could also be that we were kind of buzzed by now after having at least 4-5 drinks each.
We don't really recommend this. 3-4 beers or wine glasses is one thing but cocktails is completely different.
The View
Like we said earlier, the views here are stunning and possibly unrivaled. From every angle you see a glimpse of everything Bangkok has to offer. The views here best enjoyed from sunset and on, especially from the top deck. The most unique and photographed view from Octave is of Thong lo BTS station. It's basically iconic since it stands out so prominently against the already lit Bangkok city.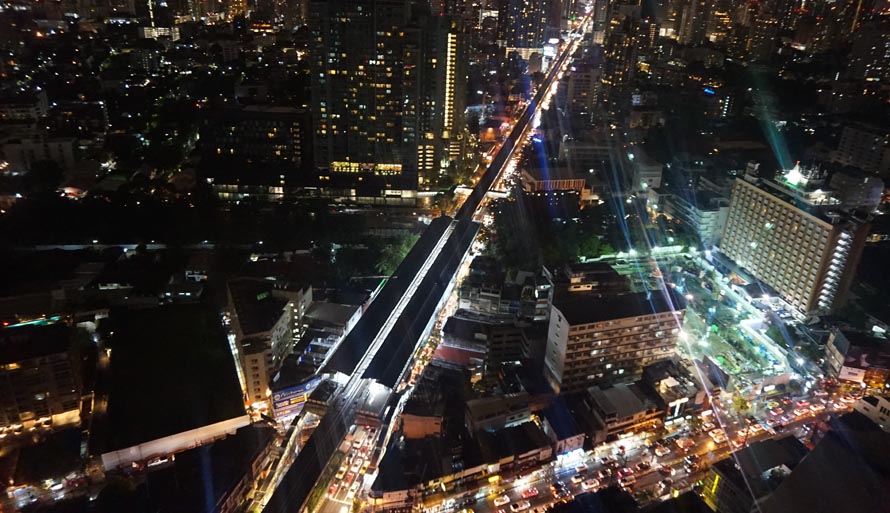 Address: 2 Soi Sukhumvit 57, Sukhumvit Road
Phone: +662 797 0400
---
Lesson learned and overall experience
Due to heavy rain and time constraints, we had to change our plans quite a bit. For one, we decided to to skip Above Eleven that night. We also spent a little bit extra time at each bar than expected. This goes to show that no matter how much you plan something, you can't control circumstances and you have to adjust all the time.
Overall, we had a really interesting night. The rain made it challenging but having drinks in that type weather was kind of fun. The bar services and management were also very professional, catering to our needs and did a good job suggesting the right drinks and explaining concept behind them.
Had it not rained and there was less traffic, we could have easily fit 5 rooftops. We also didn't get a chance to use BTS or other public transpiration because of it. We basically used Uber or Grab Car to get around.
If you're going to plan a similar activity, definitely do not do it in the rainy reason.
---
Disclosure: we approached the rooftop bars ourselves and were given complimentary drinks for the purpose of giving you the full experience. We were also given access to use our tripod to take pictures, which is normally not allowed unless you have prior approval.