We love working with brands, especially those that resonate with us. Brands that are committed to making travel more fun, interesting and meaningful. So we are proud and excited to announce our partnership with Your Local Cousin.
This travel startup isn't doing anything drastically new but they are doing it right. Basically, through Your Local Cousin, travelers can have locals from their favorite destinations give tips and advice on what to do, things to see and where to eat.
And now we're one of your Local Cousins and you can find Shayan in our home city – Bangkok!
How does it work?
It's quite simple. When you enter the website, you straight off search the city you are visiting. Let's take Bangkok for example.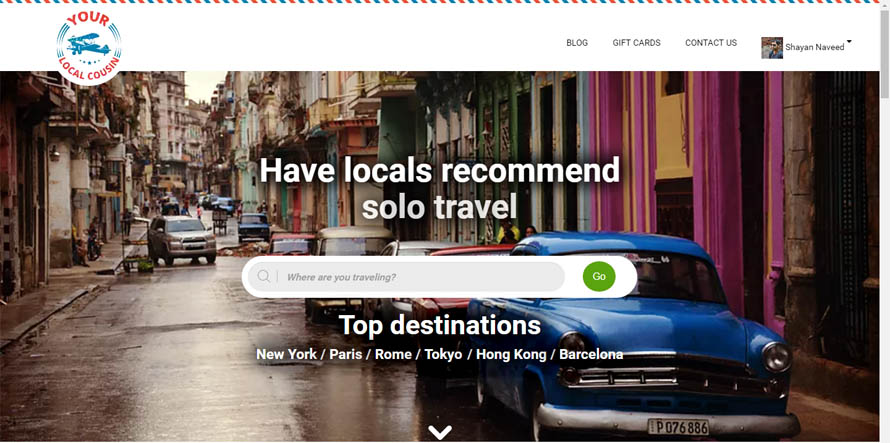 Once you type in the destination and click GO, you're taken to a page showing all the locals in that area. You can further filter down the search based on your travel style, interests, language and even the occupation of the local.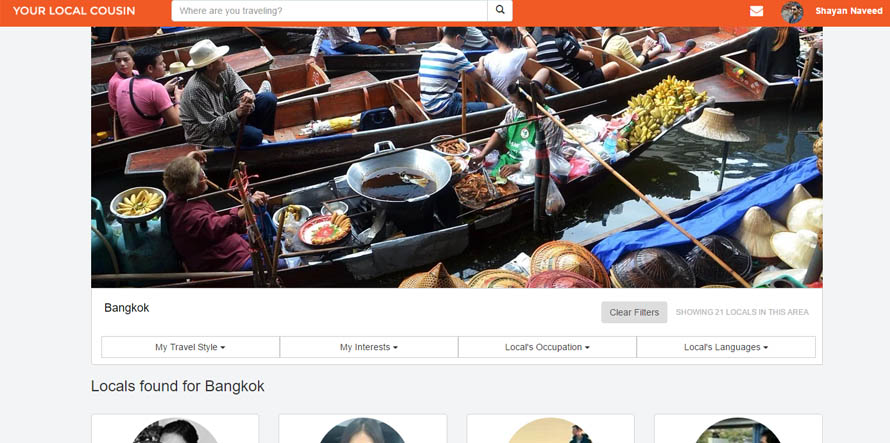 Simply go through the profiles of the locals and then make your decision on who to contact. I am not sure if you can contact multiple locals, however.
Let's say you pick Shayan. This is his profile. You have 4 options to choose from in terms of how you want to contact him. You can:
Text 20 questions for $15
Have a 30 minute conversation for $15 / 60 minutes for $30 / 120 minutes for $60
Have a customized itinerary made ranging from $25 to $60
Have a customized map (Google maps) made for $10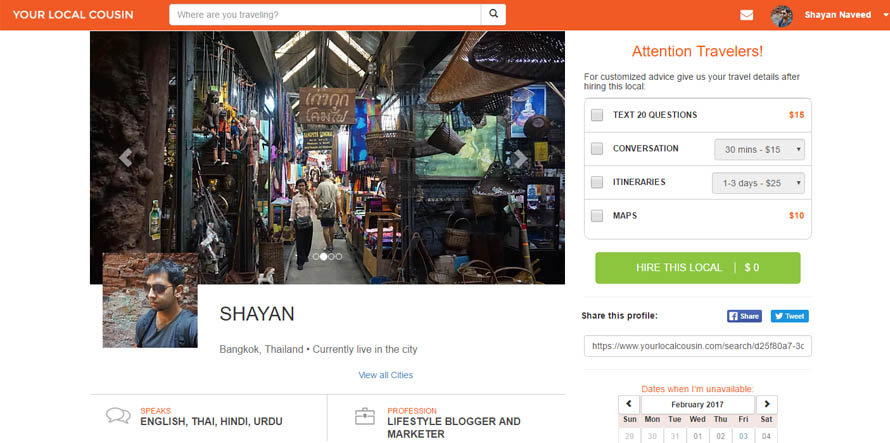 Make sure you check the dates that the local is NOT available, click on the service you want (can be multiple) and HIRE. Follow the steps after to make the payment and wait for the response from the local. It's that easy!
So if you're coming to Bangkok, definitely hire us (Shayan) and of course Kanika helps too. We are a team but the profiles here are only available for one person.
We're definitely EXCITED to be on this platform and hope to be your local soon!
In the near future, I'd like to see an app being developed so it is easier for locals and travelers to keep in touch. It will also be easier for locals to manage their account and check on inquiries faster.
Happy travels!