Everyone is out there talking about how solo traveling is the best thing in the world. While it may have its positives and benefits, we couldn't imagine traveling without each other. So as much as solo travelers do inspire us, lately we've been obsessed with searching out (possibly even stalking) couple travel bloggers across the internet. And if you're anything like us who enjoy sharing your travels with the significant other, here are 10 amazing couple travel bloggers you have to follow for some inspiration.
These guys are the epitome of what a couple should be like not just travel bloggers. Their Instagram clearly shows how much they love each other and their travels together. What we really love about their blog is that blend style and fashion with travel so well. A lot of blogs talk about how to pack less and you should not care what you look like…well not these guys and we can get behind that.
Oh and don't even get us started on their photography skills and style. It's beyond belief.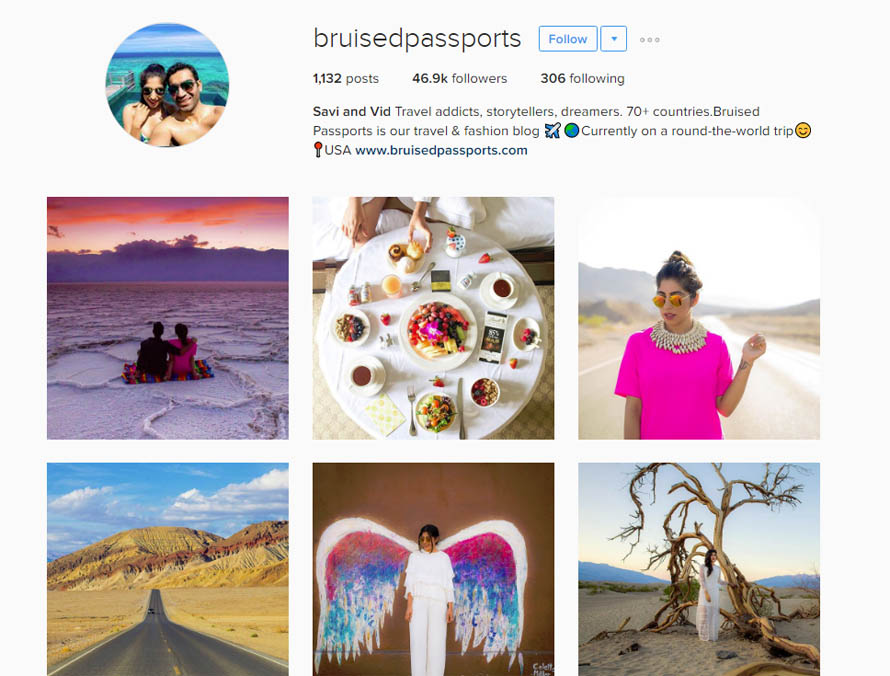 We love these guys because they are just so interesting and unique. Apart from traveling all over the world, sharing beautiful photos, they also attend music festivals. That is pretty cool! We love music festivals too but probably not the kind they go to.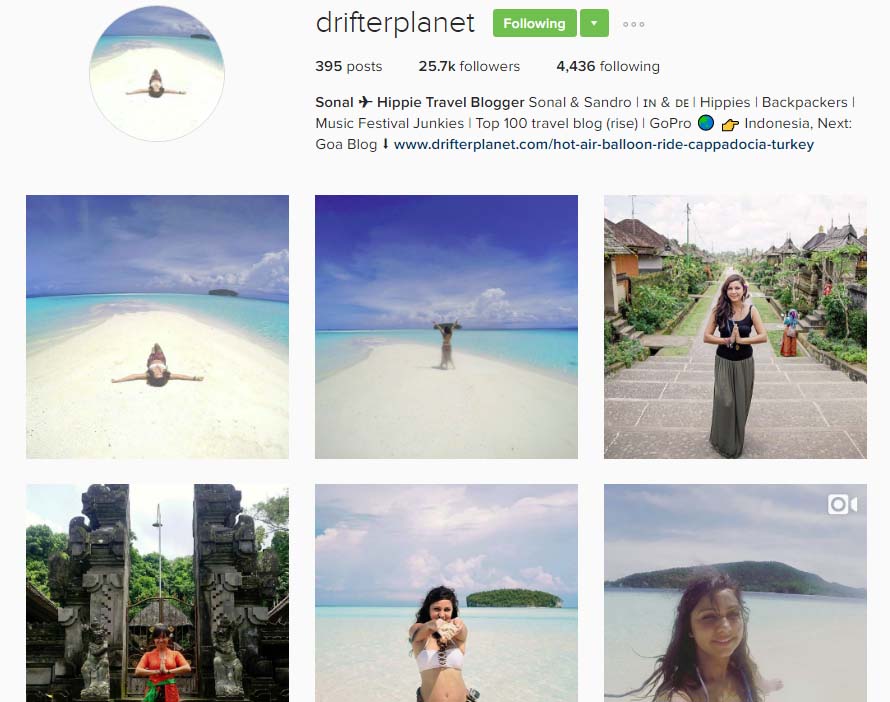 Absolutely the cutest couple ever! Their photos on Instagram are adorable and they really know how to have fun with each other. Honestly, we hope we can meet these guys some day because they seem so down to earth and nice, it is unbelievable.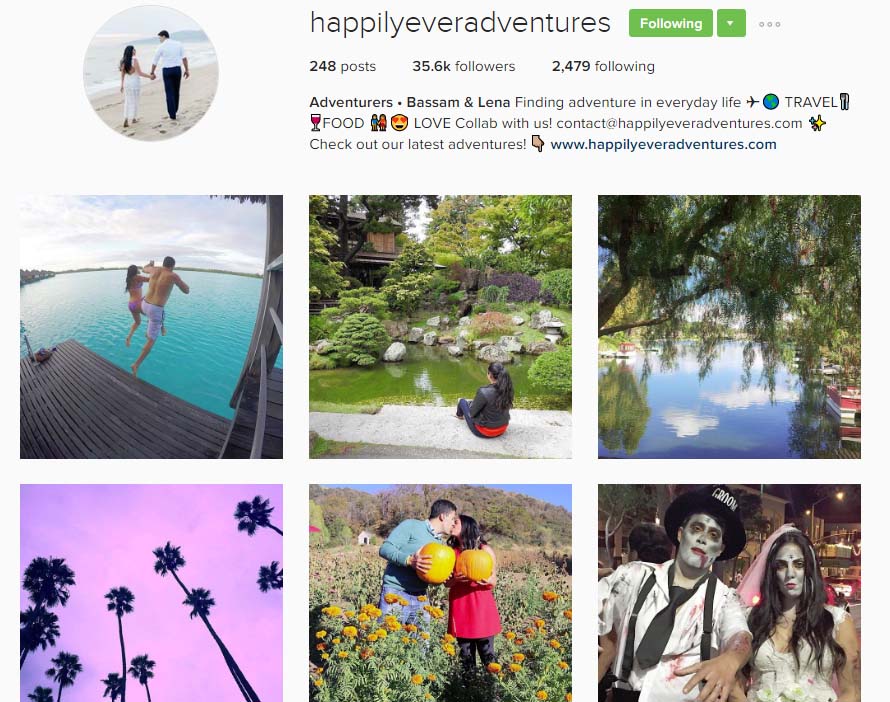 We recently did a special feature on them over at our POW series. Uditi and Anshul are as real as they get with no flashy or over the top blogging/picture-taking. They are also not the type of bloggers who are just going to quit their job to travel. Like us they manage full time jobs and give in to their wanderlusts too. That is why they really inspire us.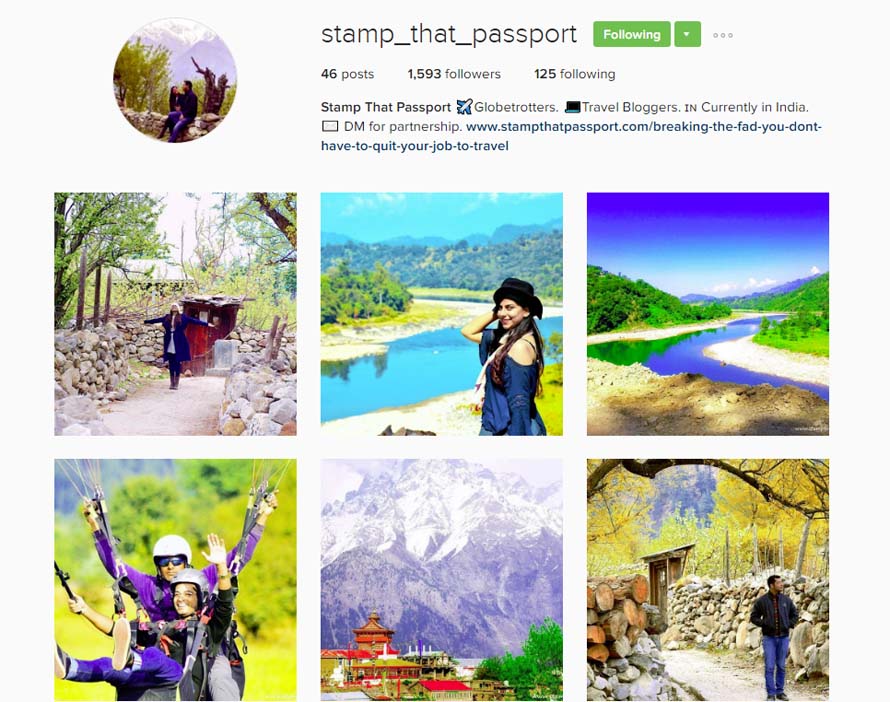 These Kiwis really know how to live and love. Their passion for travel, the great outdoors and each shows in their Instagram photos. Over on their blog they also have some great first-timer, simple guides for various countries across North and South America, Europe and Africa.
The mixture of tips and personal stories is just right.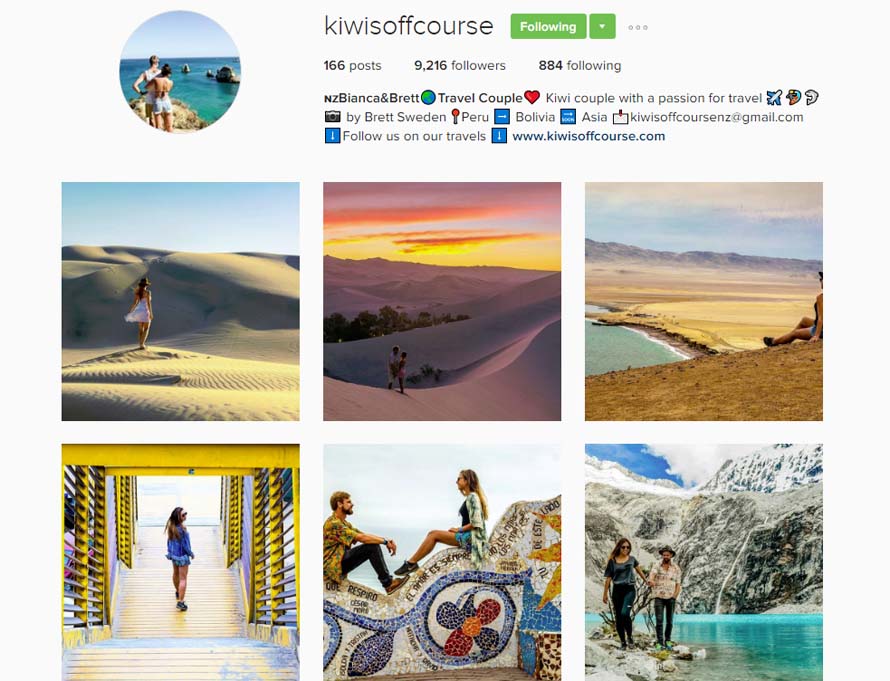 When we came across Katie and Xavier's instagram blog, we immediately became obsessed with the feed. It is absolutely gorgeous because they seem to apply a consistent theme to their photos. Just check out their photos from Cuba, they made it seem so vintage and appropriate for the setting.
And trust us, that is not easy to do! We try to do it but we can't for more than 3-6 photos. After that we either get bored or lose the creativity. So they are a huge inspiration for us to change that.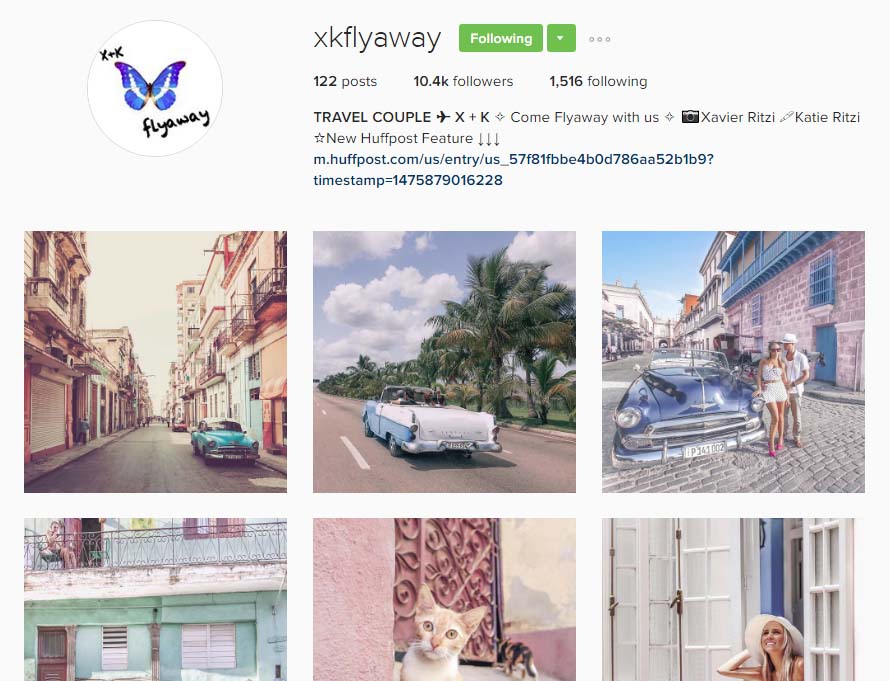 We also love how they incorporate themselves in the photos and it's not just them, all these couples know how to do it so well. Anyone can take a photo of a landscape or a city, but to be part of it is unique and special.
Collette & Scott – Roamaroo

Their Instagram is a thing of beauty filled with vibrant colors and unique editing style.
An Indian boy and a Pakistani/Indian girl – sounds familiar? They are almost like us! Sana and Faisal have hit Instagram with a bang with over 8k followers under a very short time. Right after getting married, these guys began their journey not only as a married couple but as budding travelers. They share their love and passions through travel and fashion on their instagram…do we see the new Savi and Vid emerging? Time will tell.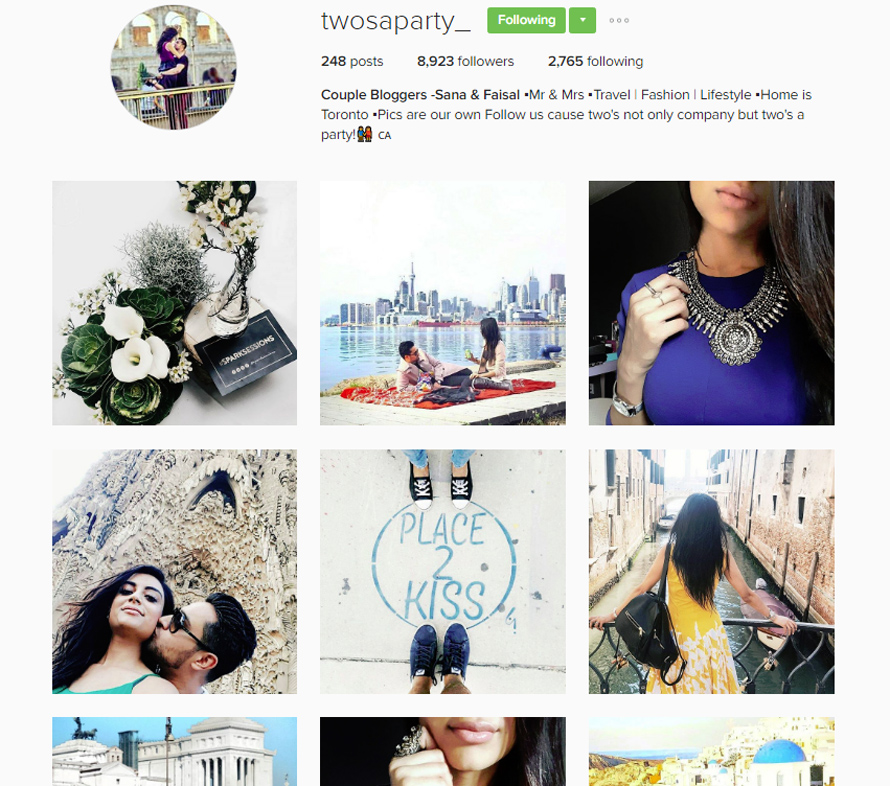 This is another beautiful couple we hope to meet soon, maybe when they come to Thailand in 2017!
Last but definitely, not least, we are totally inspired by Amy and Nathan who are just the loveliest couple out there. They are so simple and down to earth but at the same time live such heavenly lives. They remind us of that sweet, typical American couple living extraordinary lives. While many focus on glamour or and over-the-top romantic shots, these guys show us the real, sober side of love and travel. That is really cool.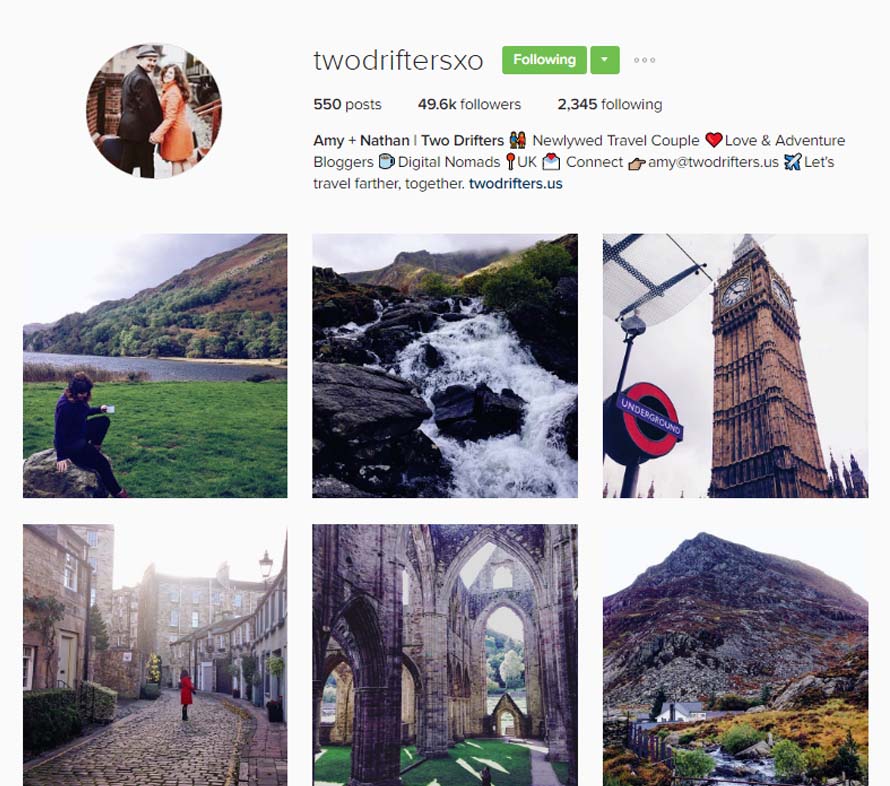 Whether it is on their blog or Instagram, they share such beautiful personal stories but also great tips for other travelers.
---
If we didn't include you guys in this, we are so sorry but a list of 50 or so couple bloggers who inspire us would just be too long and tedious for us to create. But we still love to see your stuff and if we haven't already, make sure you leave your links down below and we will surely follow you.