As an avid urban explorer, one of my favorite things to do (or try to) is go on rooftops in Bangkok. Not only do they have stunning views of the city but I simply love the thrill of being up high and above it all. There is also a sense of calm up here, whether it is a mere 5th floor or terrifying 85th floor!
It's like you're part of the city but at the same slightly disconnected. As Bangkok is in constant motion, you tower over it still and calm.
Photo credit: On Trails
But like most things in life, it doesn't come easy. From my experience, it seems that going up to Bangkok rooftops is either impossible, extremely dangerous or comes with a cost.
Yet, probably like you, I'm undeterred. After all, I keep seeing my Instagram flood with Bangkok cityscape shots. There must be a way! So we ask around to try and find out what's the secret.
Paid vs. free
The first thing you have to know is that there are two main ways to go on rooftops in Bangkok. The free way vs the paid way.
The paid way is the easiest as it involves no hassles or possible 'breaking and entering'.
The paid way also come in two categories. One are the rooftop bars where you have to buy at least a drink and share the view with possibly a dozen or more other people. There are more than a double dozen rooftop bars in Bangkok to get your fix. Our top favorites would have to be Octave, Above Eleven, Cloud 47 and Hi So at So Sofitel. However, if you're thinking of taking professional photos here (with a tripod), you have to get permission first.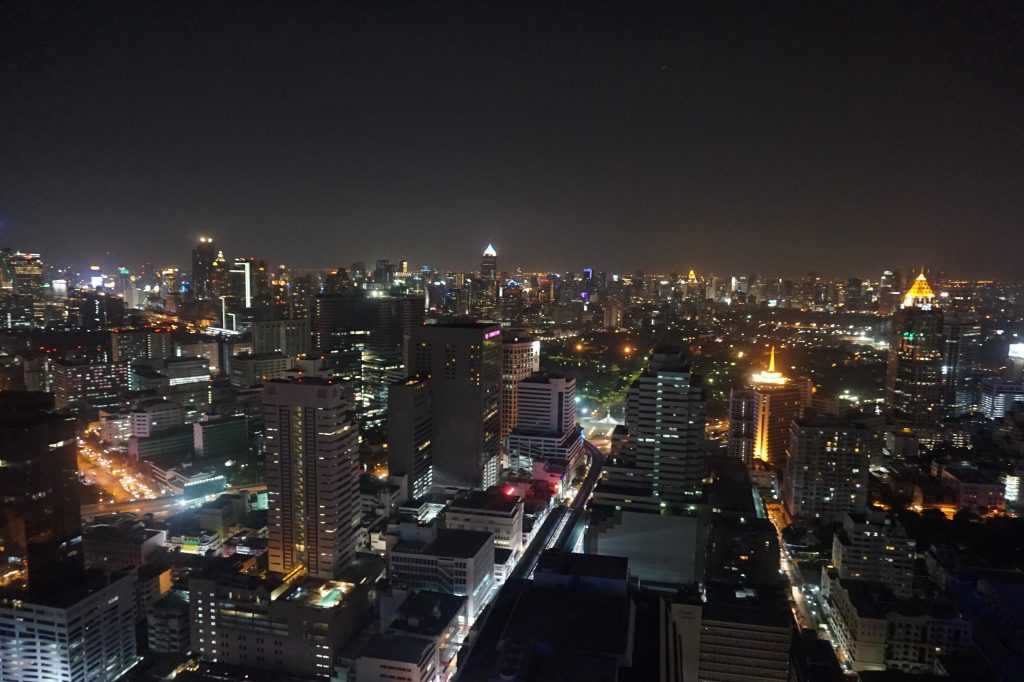 The second type are the private properties – residential/commercial/office rooftops. After seeing that many people come there, the owners started charging them. One such place is the Ratchaprarop Tower Mansion where you have to pay 1500 THB for a maximum of 5 people. At 300 THB per person, that's not too bad.
Photo credit – Coconuts Bangkok
Free rooftops are everywhere in Bangkok. Every condominium or office building has one but finding one that is accessible is rare. The ITF Tower is not one of them, however. Many photographers and roof-toppers go here due to its easy access. The view from up here is pretty decent too.
Photo credit – Coconuts Bangkok
If you are more daring go into a hotel and pretend to be a guest and follow another person up to their floor and sneak up the fire escape. 

Security are very easy to deal with just pretend to be lost and ask for directions out. – Alex Duffner
Denied entry or don't want to make the effort to go exploring? You can always ask the staff at your hotel/condo if they have a rooftop and request access there.
Make connections and ask
If you see a particular photo on social media you like and you want to experience the same view, simply ask the author of the photo. Now, I've come to realize that some rooftop photographers/explorers, especially the local ones like to hold their information to the chest. However, more often than not, they will tell you where it is and how to get there.
Nicole Angsten, an urban explorer explains.
The secret for most unique rooftops are good connections and founded on giving and taking.
The best advice we can give is don't just ask them out of the blue.
Compliment their photos. Get to know them and build a rapport. Buy them a drink if you have to and then you can ask but make sure it is genuine.
When they are your friends and there is mutual understanding, it is so much easier to find the right spots. Also it is a lot more fun to go adventuring and exploring with a friend than by yourself.
For me the best way to get up these abandoned buildings is to get a Thai friend who is really good at sweet talking security guards. We had a girl with us who managed to get us into two buildings by talking with guards. – Alex D.
You could always wing it and do it the "get lost and explore" style but chances are you would come up empty. You either need connections or a whole lot of research before hand.
Day vs. Night
Bangkok is a completely different beast between day and night. So depending on what kind of experience you want, select the right time of the day. Of course daytime is hotter but the views can be just as incredible as nighttime. The best time to go rooftop exploring is a few hours before sunset – around 4 pm or 5 pm. Sunset is usually between 6:15 – 6:45 depending on time of year.
Best Bangkok Rooftops
So I ask some of my friends and fellow urbanites where there favorite Bangkok rooftop spots are and here's what they said.
Teguh Priambodo, an Indonesian expat in Bangkok thinks that the view from JTC tower has the total package.
Nicole says Cloud47 rooftop bar has one of the easiest accessibility, view and ambiance. She also thinks the Ratchaprarop Tower Mansion has a very unique view. Otherwise she still loves her condo rooftop, which i agree is pretty amazing with its own helipad!
For Alex Duffner, it's all about the great views and his photos definitely capture it. His favorite spot is an abandoned building in Sukhumvit soi 27.
As for us, we might be a bit biased but the view from our apartment rooftop in Sukhumvit soi 19 is pretty amazing! However, after a recent death from up there, the management has restricted access up here. Luckily I know the guard well and usually plead with him to let me go up. He has to come along though.
There are plenty of building rooftops I want to scale but some of them are shut after so many have ventured there. The Ghost Tower and Odean building have been on my bucket list for a while but they are strictly forbidden from entering.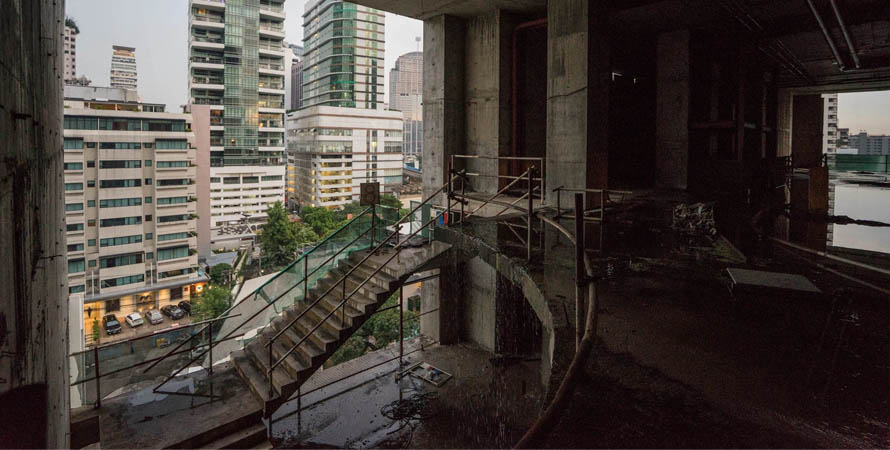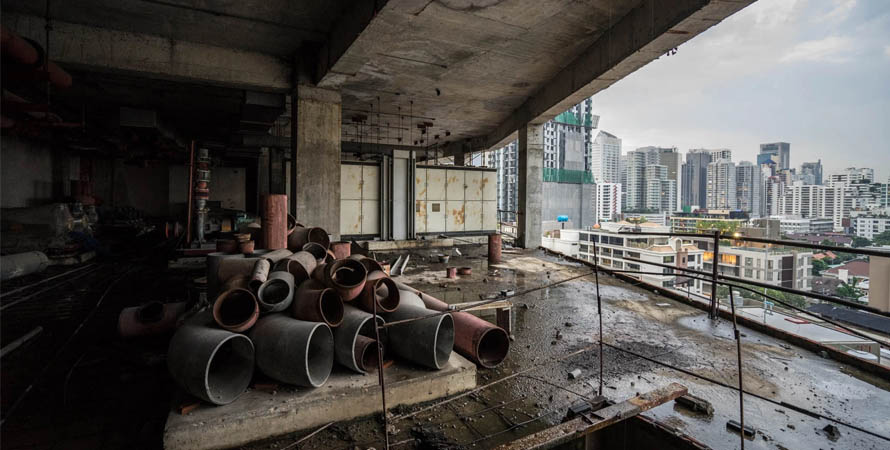 The ghost tower especially sounds like the ultimate adventure. My Everest for urban exploration. Hopefully someday.
I guess the adventure is in finding new places and braving the unknown to find my own rooftop spots. Alternatively you can join the Bangkok Photography group created by Alex D where he holds vantage point meetups every now and then.
See you up there!